Zondervan's MasterLectures reaches
the 100th video course milestone
Grand Rapids, Mich, March 2021—Zondervan, a division of HarperCollins Christian Publishing, today announced that the one hundredth video course is now available on its streaming video platform, MasterLectures. MasterLectures offers subscribers unlimited streaming access to thousands of video lectures on the Bible, theology, apologetics, biblical languages, and leadership.
"Reaching this milestone indicates the demand for high-quality, trustworthy video learning materials has never been greater," said Stan Gundry, senior vice president and publisher of Zondervan Academic and Zondervan Reflective. "MasterLectures is meeting the needs of Christians around the world who desire to learn more about the Bible and theology, and it has also become an innovative platform for introducing our authors to a wider audience."
Since its launch in March 2019, the number of available courses on MaserLectures has doubled, with the audience growing to include subscribers from 130 countries. Video courses feature authors published primarily by the Zondervan Academic and Zondervan Reflective imprints and are released in conjunction with their books, notable releases include:
The Color of Compromise, taught by New York Times bestselling author Jemar Tisby;
Encountering the Holy Land: A Video Introduction to the History and Geography of the Bible, taught by Carl Rasmussen and filmed on location in Israel;
Basics of Biblical Greek, taught by William D. Mounce and based on the widely-used Greek grammar by the same name;
Philippians, taught by Lynn H. Cohick; and
Recovering from Biblical Manhood and Womanhood, taught by Aimee Byrd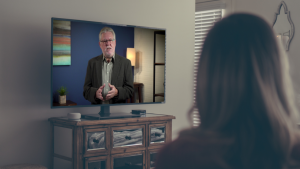 Zondervan has ambitious plans for growing MasterLectures in the coming year. Upcoming video courses include The New Testament in Its World, taught by N.T. Wright and Michael F. Bird; A Theology of Paul and His Letters, taught by Douglas Moo; and Subversive Witness: Scripture's Call to Leverage Privilege, taught by Dominique DuBois Gilliard; among others.
MasterLectures is part of the company's digital learning initiative, which also includes Zondervan Academic Online courses, a robust, seminary-level online learning experience, developed in partnership with Biblemesh, that includes videos, digital textbooks, adaptive learning tools, and assessments. This initiative also includes Enhanced Editions, a unique digital format combining book text, video lectures, and interactive learning content with customization options that allow instructors to tailor each textbook to the unique needs of their classes.
To celebrate the release of the one hundredth video course, Zondervan is offering free access for 30 days to new MasterLectures subscribers who use the code HUNDRED. This code allows new subscribers to get unlimited streaming access to all videos at MasterLectures.ZondervanAcademic.com, as well as on mobile devices and smart TVs, including Apple TV, Android TV, Roku, and Fire TV.
About Zondervan:  Zondervan, a worldwide leading Christian publisher of books and Bibles, is part of HarperCollins Christian Publishing, Inc. Its publications include a variety of Bible translations for all ages; books in different genres and subject areas for the general reader; curriculum for individual and group Bible study; books for children and young adults; academic resources including textbooks and reference books; ministry resources; and books on faith and culture. Zondervan is located in Grand Rapids, MI. For more information, visit www.zondervan.com.
Contact: Amy Bigler, Senior Public Relations Manager, amy.bigler@harpercollins.com