Zondervan Signs Candace Cameron Bure & Natasha Bure
for Multi-Book Deal
Multiple projects are planned, including young adult, trade and gift books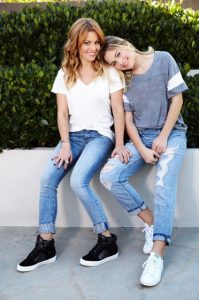 GRAND RAPIDS, Mich., April 2017— Today, Zondervan announced signing of a multi-book deal with actress, producer and New York Timesbestselling author Candace Cameron Bure, along with her daughter, musician and YouTube star Natasha Bure, whose first book in the deal, Let's Be Real: Living Life as an Open and Honest You, released March 28.
Candace Cameron Bure began her acting career at age five, but she is perhaps best known for her roles on Full House and Fuller House, ABC's Dancing with the Stars, The View and in film. People have been drawn to her sense of style and confidence, and her debut gift book Staying Stylish: Cultivating a Confident Look, Style, and Attitude (releasing in fall 2017) will provide readers with tips, tricks and products Candace uses to achieve her signature look. What's more, it will provide insight into how she focuses on inner beauty and her relatable faith.
Zondervan will release a trade book in spring 2018 by Candace. In her new book, Candace will reveal the thought patterns and practices that have empowered her to flourish and give readers permission to go off-script, stand their ground with elegance and stay true to themselves despite others' expectations. 
"The world has a way of defining you if you don't know who you are before you get out there," Candace says. "I've fought this battle all my life, and I've discovered that classy kindness can anchor a person in who God created them to be. I'm thrilled to partner with Zondervan in bringing what is really my keystone message to women today."
"Candace continues to win over the hearts of Americans everywhere," says David Morris, Vice President & Publisher for Zondervan Books. "Her strength, joy and faith will shine through these books and will be a source of hope for so many readers in the years ahead."
Singer, model, and social media celebrity Natasha Bure just released her debut young adult non-fiction conversational book, Let's Be Real, that showcases her powerful message for teens: "This is real, this is life, and we all go through it." While diving deep into life issues, Let's Be Real inspires readers to be authentic and confident in who they are. "I want to encourage others to live their life and not try to be someone else," says Natasha. "Be open, honest, and the best YOU you can be!" The hardcover and e-book editions, released on March 28th, are now available online and in stores nationwide.
"Natasha Bure is a positive role model for young people," said Annette Bourland, Senior Vice President and Group Publisher. "Her approach to life is vibrant and unassuming, and her fun, spunky, beautiful self shines through the projects she's working on. We're so excited to work with her and get real conversations started with readers."
Stephanie Smith in the trade division, in conjunction with the Zondervan Young Adult and Zondervan Gift teams, acquired the books. Candace Cameron Bure and Natasha Bure are represented by Redrock Entertainment Development and Allison Cohen with The Gersh Agency.
About the Authors
Actress, producer, New York Times' bestselling author and inspirational speaker, Candace Cameron Bure is both outspoken and passionate about her family and faith. Known to millions worldwide from her role as "D.J. Tanner" on the iconic family sitcom Full House, and now with Netflix's hit series Fuller House, currently in production on its third season.  Candace continues to flourish in the entertainment industry as role model to women of all ages. With an acting career that started at the age of five, Candace has grown up in show business and has appeared in countless national television commercials, prime-time television hits, made for TV movies and feature films. Candace and her husband, former NHL star Valeri Bure have been happily married since 1996. Together with their three children, Natasha, Lev and Maks, they split their time between Los Angeles and Napa Valley, California.
Natasha Bure is an American singer, actress and YouTube personality. She was a contestant on season 11 of The Voice and was placed on Adam Levine's team during the blind auditions.  She also has a YouTube channel where she posts singing videos and fashion/beauty tutorials.  View Natasha's posts on Youtube at http://www.youtube.com/user/NatashaBure/ and on Instagram @natashabure.
Zondervan is a world-leading Bible publisher and provider of Christian communications.  Zondervan, part of HarperCollins Christian Publishing, Inc., delivers transformational Christian experiences through its bestselling Bibles, books, curriculum, academic resources and digital products. The Company's products are sold worldwide and translated into nearly 200 languages. Zondervan offices are located in Grand Rapids, Mich.  For additional information, please visit www.zondervan.com.