Zondervan releases the fifth edition of the Zondervan Handbook to the Bible
Over 3 million copies in print in 30 languages
"Indispensable in my own studies of the Scriptures."—Charles W. Colson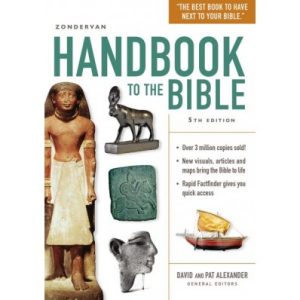 Grand Rapids, Mich., Dec. 8, 2017 — Zondervan is pleased to announce the release of the fifth edition of the Zondervan Handbook to the Bible, a full-color guide to all the books of the Bible.
Continuously in print since 1973, with over 3 million copies in print in 30 languages, the Zondervan Handbook to the Bible has earned an outstanding reputation as the most helpful and accessible guide to the world's all-time bestseller. From the history and design of the temple in Jerusalem to God's relationship with the universe, readers will find it all here, now updated with new imagery. The land, culture, battles, feast days, heroes, and villains of Scripture come alive through spectacular color-filled articles and images of meticulous clarity and detail.
"On a personal note, no other book played such a significant role in David's life, nor does one in my own, as the Bible," writes Pat Alexander, general editor, in the preface to the Handbook. "It is my hope that this latest edition of the Handbook will continue to play its part in helping readers understand the Bible, discover its treasures and meet its challenges."
Special features include:
A four-color guide to all the books of the Bible
127 articles by leading international scholars
68 maps and 20 charts and diagrams
More than 700 color photographs and illustrations, vividly portraying the world of biblical characters and events
A 680-page, section-by-section guide to the Bible, featuring explanatory notes on key words and issues of meaning
A comprehensive Rapid Factfinder to the Bible—its key people, places, events, and teachings—and to the Handbook as a whole
World-class contributors to the Zondervan Handbook to the Bible include Richard Bauckham, John Goldingay, I. Howard Marshall, R. T. France, Michael Green, Gordon Wenham, and many other international experts.
Colorful, exciting, authoritative, readable, and often challenging and inspiring, the Zondervan Handbook to the Bible is written by those who have discovered the riches of the Bible themselves and want to share them with others.
To request review copies, contact Trinity McFadden at trinity.mcfadden@harpercollins.com.
About the Editors:
David Alexander (BA, Oxford University) and Pat Alexander (BA, Bristol University) are the founders of Lion Publishing, where for 23 years David was director and chair and Pat was editorial director for adult, children's, and education lists. Together they produced the original Lion Handbook to the Bible.
About Zondervan: 
Zondervan is a world leading Bible publisher and provider of Christian communications.  Zondervan, part of HarperCollins Christian Publishing, Inc., delivers transformational Christian experiences through its bestselling Bibles, books, curriculum, academic resources and digital products. The Company's products are sold worldwide and translated into nearly 200 languages. Zondervan offices are located in Grand Rapids, Mich. For additional information, please visit www.zondervan.com.
Contact:  Trinity McFadden, Senior Manager of Publicity
trinity.mcfadden@harpercollins.com  616-698-3514