Zondervan releases expanded third edition of
NYT bestseller, "Seeking Allah, Finding Jesus"
Experience Nabeel Qureshi's dramatic story of an American Muslim coming to Jesus through friendship, apologetics, dreams, and visions
Modern Classic "Seeking Allah, Finding Jesus" is a New York Times bestseller with more than 500,000 copies sold—now expanded with new details, including reflections by Nabeel's wife, Michelle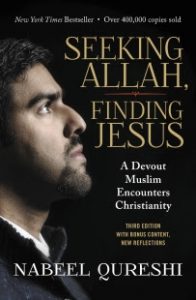 Grand Rapids, Mich., Aug. 16, 2018 — Zondervan is pleased to announce the release of the third edition of the New York Times bestselling Seeking Allah, Finding Jesus by Nabeel Qureshi, now expanded with new bonus content, including reflections on Nabeel's life and legacy by his wife, Michelle Qureshi; an afterword by Nabeel's mentor Mark Mittelberg; and additional behind-the-scenes stories told by Nabeel and his good friend David Wood.
In Seeking Allah, Finding Jesus (on sale August 21), Nabeel Qureshi describes his dramatic journey from Islam to Christianity, complete with friendships, investigations, and supernatural dreams along the way. Providing an intimate window into a loving Muslim home, Qureshi shares how he developed a passion for Islam before discovering, almost against his will, evidence that Jesus claimed to be God and rose from the dead. Unable to deny the arguments but not wanting to deny his family, Qureshi struggled with an inner turmoil that will challenge Christians, Muslims, and all those who are interested in the world's greatest religions. Engaging and thought-provoking, Seeking Allah, Finding Jesus tells a powerful story of the clash between Islam and Christianity in one man's heart—and of the peace he eventually found in Jesus. To learn more, visit www.NabeelQureshi.com.
Nabeel Qureshi was a speaker with Ravi Zacharias International Ministries. He earned an MD from Eastern Virginia Medical School, an MA in Christian Apologetics from Biola University, an MA in religion from Duke University, and an MPhil in Judaism and Christianity from Oxford University. Following a year-long battle with stomach cancer, heaven welcomed Nabeel home on September 16, 2017. He leaves behind his wife and young daughter who aspire to honor the ministerial legacy Nabeel established during his brief 34 years on earth.
Zondervan is a world leading Bible publisher and provider of Christian communications.  Zondervan, part of HarperCollins Christian Publishing, Inc., delivers transformational Christian experiences through its bestselling Bibles, books, curriculum, academic resources and digital products. The Company's products are sold worldwide and translated into nearly 200 languages. Zondervan offices are located in Grand Rapids, Mich. For additional information, please visit www.zondervan.com.
Contact: Trinity McFadden, Senior Manager of Publicity
web: trinity.mcfadden@harpercollins.com  tel: 616-698-3514