Zondervan introduces new Enneagram documentary from bestselling Enneagram author Christopher L. Heuertz
'NINE: THE ENNEAGRAM DOCUMENTARY' TO RELEASE IN THEATERS FALL 2020
DOCUMENTARY MARKS FIRST FILM PRODUCED BY THE PUBLISHER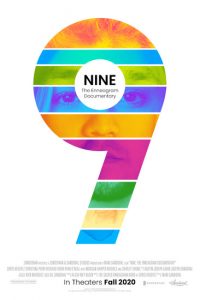 GRAND RAPIDS, Mich. (May 20, 2020) – Zondervan announces the first-ever Enneagram film, NINE: THE ENNEAGRAM DOCUMENTARY, will debut in North American theaters fall 2020, featuring internationally renowned Enneagram expert and bestselling author Christopher L. Heuertz.
The documentary, produced in association with Sandoval Studios, marks Zondervan's first foray in producing a film. Zondervan sees film as a way to broaden key messages from its authors to reach a wider audience and is actively exploring this format.
"Chris Heuertz is an unequaled authority on the Enneagram," said Zondervan Books Associate Publisher Stephanie Smith. "Through his books and in-person training, he has helped thousands on their journey to self-discovery and acceptance. With this documentary, Zondervan hopes to share his compelling vision for how the Enneagram can bring hope and compassion into our lives with an even larger audience."
The companion book by Heuertz, titled The Enneagram of Belonging: A Compassionate Journey of Self-Acceptance, with a foreword by bestselling author Brené Brown, released yesterday. Heuertz is also the author of The Sacred Enneagram, that released in 2017 and has sold over 100,000 copies.
"We are proud to partner with Zondervan to create and release this important film about the journey of self-discovery through the lens of compassion," said Mani Sandoval, director of NINE and founder of Sandoval Studios.
NINE follows Heuertz as he journeys across America speaking to people from each of the nine Enneagram profile types, including Morgan Harper Nichols, Ryan O'Neal of Sleeping at Last, Christina Perri, Shirley Chung, and Father Richard Rohr. The diverse guest list is comprised of people from all walks of life – chefs, musicians, labor trafficking survivors, parents, teachers, religious leaders, and more.
Opening in theaters this fall, NINE will leave viewers in awe of the intricacies and beauty of the essences of humanity. In doing this, Heuertz believes the "Enneagram reveals both the ways you get lost and the ways you find your way home to your True Self and to God."
More details about the film release will be announced soon via the website enneagram.movie, where you can sign up for email updates.
About Zondervan:
Zondervan, part of HarperCollins Christian Publishing, Inc., delivers transformational Christian experiences through its bestselling Bibles, books, curriculum, academic resources and digital products. The company's products are sold worldwide and translated into nearly 200 languages. Zondervan offices are located in Grand Rapids, Mich. For additional information, please visit www.zondervan.com.
About Christopher L. Heuertz:
Christopher L. Heuertz was first introduced to the Enneagram in the slums of Cambodia. Since then he has trained under some of the great living Enneagram masters, and now teaches the Enneagram in workshops around the world as an International Enneagram Association Accredited Professional. Nine: The Enneagram Documentary features Chris on a journey across America to introduce the essence of the nine profile types. Chris is the host of Enneagram Mapmakers podcast and bestselling author of The Sacred Enneagram (Zondervan) and The Enneagram of Belonging (Zondervan). He and his wife, Phileena, and their sweet dog, Basil, live in Omaha, and you can follow his work at gravitycenter.com.
About Sandoval Studios:
Sandoval Studios is a rising American film and animation studio, creating stand out original content that entertains and inspires the imagination. Founded by the Sandoval Brothers, the team behind the award-winning Sandoval Agency, Sandoval Studios has a slate of documentaries, feature films and animated series coming soon. sandovalagency.com
Media Contacts: 
Jennifer Willingham, EPIC, jennifer@epic.inc; 615-483-4729
Robin Barnett, Zondervan, robin.barnett@harpercollins.com; 616-698-3251