Zondervan Bibles releases the NRSV Simple Faith Bible edited by former President Jimmy Carter
A call for a warmhearted, justice-filled life of faith from former President Jimmy Carter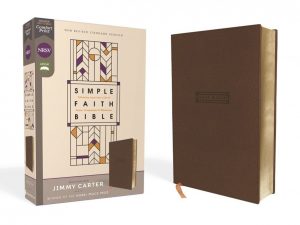 Grand Rapids, Mich. Aug. 2020-
 Zondervan Bibles, a division of HarperCollins Christian Publishing, is proud to release the
 NRSV Simple Faith Bible: Following Jesus into a Life of Peace, Compassion, and Wholeness
, edited by former United States President Jimmy Carter.Nobel Peace Prize Winner and former President Jimmy Carter's contagious desire for peace, compassion, and wholeness permeate the notes of this Bible. His decades-long Sunday School teaching ministry, his public service, and humanitarian engagement form the basis of the book introductions, thoughtful essays, pithy quotes, and honest prayers, calling you to a warmhearted, justice-filled life of faith.
"I cannot imagine a better time to present this Bible," said Melinda Bouma, vice president and publisher of Zondervan Bibles. "In a world of uncertainty and fear, when justice cries out, President Carter's engagement with the Word will reveal the beauty found in these pages. Many will be inspired, equipped, and encouraged through his reflections and prayers. His faith is a model for us all."
Set in Zondervan's exclusive NRSV Comfort Print® typeface, this New Revised Standard Version Bible offers you a smooth reading experience that complements the foremost Bible translation vetted by Protestant, Catholic, Orthodox, Evangelical, and Jewish scholars. Renowned for its beautiful balance of scholarship and readability, the NRSV faithfully serves the church in personal spiritual formation, in the liturgy, and in the academy.
Features:
The text of the New Revised Standard Version (66-book Protestant canon), vetted by an ecumenical pool of Christian academics and renowned for its beautiful balance of scholarship and readability
Foreword by Jonathan Reckford, International CEO of Habitat for Humanity
Over 600 application-oriented notes, articles, reflections, and prayers gleaned from Nobel Peace Prize winner and former U.S. President Jimmy Carter's extensive teaching ministry and public life of service
Exclusive Zondervan NRSV Comfort Print typeface
9.5-point print size
NRSV Simple Faith Bible: Following Jesus into a Life of Peace, Compassion, and Wholeness is available now:
9780310454434 NRSV, Simple Faith Bible, Hardcover, Comfort Print, 1536 pages, $39.99
9780310454441 NRSV, Simple Faith Bible, Leathersoft, Comfort Print, 1536 pages, $59.99
Zondervan is a world leading Bible publisher and provider of Christian communications.  Zondervan, part of HarperCollins Christian Publishing, Inc., delivers transformational Christian experiences through its bestselling Bibles, books, curriculum, academic resources and digital products. The Company's products are sold worldwide and translated into nearly 200 languages. Zondervan offices are located in Grand Rapids, Mich.  For additional information, please visit www.zondervan.com.
About Comfort Print:
Zondervan Bibles teamed up with 2K/Denmark, the world's foremost Bible typeface foundry, to create exclusive Comfort Print Bible fonts. NASB Comfort Print Bibles are easy to read at any size because the typeface was designed to be both efficient and readable. Zondervan Bibles believes that the beauty of the message should be reflected in the physical form of the book. Choosing the right typeface is one significant element in creating beautiful Bibles.
Contact:  Amy Bigler, Senior Public Relations Manager, amy.bigler@harpercollins.com 616.698.3514