Zondervan Bible Group celebrates Earth Day
– 100 million pages saved
100 million pages saved with NIV Comfort Print®

Grand Rapids, Mich., April 2020 – Zondervan Bibles, a division of HarperCollins Christian Publishing, today announced a reduction in 100 million printed pages since the exclusive release of the NIV Comfort Print typeface in 2017.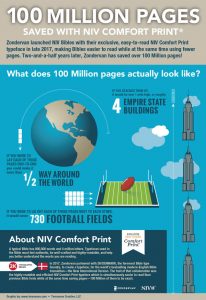 As part of the company's Beautiful Bibles initiative launched in 2015, Zondervan partnered with 2K/DENMARK, the foremost Bible type foundry, to create a typeface that uniquely complements the world's bestselling modern-English Bible translation—the New International Version (NIV). NIV Comfort Print is a highly readable typeface that uses a unique mix of open and closed letters, making it easier to read for long periods of time. It is also spatially efficient, directly contributing to the company's initiative to reduce its carbon footprint and reduce unnecessary paper usage.
"Increasing readability for the NIV while efficiently reducing paper is a breakthrough and could only be achieved through the collaboration of our partners in every area of the organization," said Melinda Bouma, vice president and publisher of Zondervan Bible Group. "We are so proud of this accomplishment and the ability to be good stewards of God's Word as well as our natural resources."
What does 100 million pages look like?
Stacked up, the pages would be more than one mile high, or roughly four Empire State Buildings.
Placed next to each other, they would cover 730 football fields.
If the pages were laid end-to-end, they would stretch further than the distance between the North and South Pole.
The impact of the Comfort Print typeface has been felt by readers in every category of Zondervan Bibles. But it is the everyday reading Bibles, the editions that readers carry with them daily, that have seen the largest total number of saved pages. The single largest page savings across any line belonged to the NIV Biblical Theology Study Bible, saving over 350 pages after being typeset in NIV Comfort Print.
Zondervan is a world leading Bible publisher and provider of Christian communications.  Zondervan, part of HarperCollins Christian Publishing, Inc., delivers transformational Christian experiences through its bestselling Bibles, books, curriculum, academic resources and digital products. The Company's products are sold worldwide and translated into nearly 200 languages. Zondervan offices are located in Grand Rapids, Mich. For additional information, please visit www.zondervan.com.
About NIV:  The New International Version (NIV) is the world's bestselling modern-English Bible translation—accurate, readable, and clear, yet rich with the detail found in the original languages. The NIV is the result of over 50 years of work by the Committee on Bible Translation, who oversee the efforts of many contributing scholars. Representing the spectrum of evangelicalism, the translators come from a wide range of denominations and various countries and continually review new research in order to ensure the NIV remains at the forefront of accessibility, relevance, and authority. Every NIV Bible that is purchased helps Biblica, a nonprofit ministry organization, translate and give Bibles to people in need around the world. To learn more, visit www.thenivbible.com
About Comfort Print:  Zondervan Bibles teamed up with 2K/Denmark, the world's foremost Bible typeface foundry, to create exclusive Comfort Print Bible fonts. NIV Comfort Print Bibles are easy to read at any size because the typeface was designed to be both efficient and readable. Zondervan Bibles believes that the beauty of the message should be reflected in the physical form of the book. Choosing the right typeface is one significant element in creating beautiful Bibles.