Zondervan announces new Study Bible:
the NIV Storyline Bible
A Study Bible that Weaves God's Story Together for an Unraveling World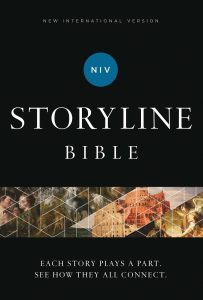 Grand Rapids, Mich., April 2019–  Zondervan is pleased to announce the release of the NIV Storyline Bible.
"We're thrilled to be extending the impact of the original Biblemesh course (The Biblical Story Project), developed in partnership with Tim Keller and other notable theologians, through the publication of this unique new Bible," says Melinda Bouma, Publisher, Zondervan Bible Group.
Journey through the interwoven story of the gospel from Genesis to Revelation. The NIV Storyline Bible features over 380 articles paired with book introductions that illuminate the interconnected nature of God's inspired Word.
"The Biblical Story Course is rooted in the joyful conviction that there is one God, one book, and one story. It is thrilling to see material from the Biblical Story course incorporated in this Study Bible," says Emmanuel Kampouris, Publisher of BibleMesh and retired Chairman and CEO of American Standard."May it introduce new believers, as well as seasoned Christians, to the profound riches of the events, doctrine, and promises of the Word of God."
"It is ideal for anyone who wants to understand how the Bible's individual stories connect to its bigger story and to each other, as it is arranged via a cross-referencing system of articles throughout. This reveals the connections between one biblical story and a host of others, equipping the diligent student to discover infinite connections between one storyline and the rest of the Bible," added Bouma.
The content explores major events, key characters, and the theology of the Bible over seven historical eras: Creation/Patriarchs/Moses/Israel/After Exile/Jesus/The Church.
Full text of the accurate, readable, and clear NIV translation

Book introductions provide a "Storyline" perspective on how each book relates to the rest of the Bible

More than 200 major articles about theological principles, characters of the Bible, the political and cultural influences on the people of Israel, and the Bible's major events

Over 180 smaller articles address the same topics as the major articles, using an applicational perspective

Topical feature indexes

Beautiful full-color page design

Over 200 full-color photos, graphs, and charts

Exclusive Zondervan NIV Comfort Print® typeface

10.9-point print size
NIV Storyline Bible

 product formats on sale April 9, 2019:

Zondervan is a world leading Bible publisher and provider of Christian communications.  Zondervan, part of HarperCollins Christian Publishing, Inc., delivers transformational Christian experiences through its bestselling Bibles, books, curriculum, academic resources and digital products. The Company's products are sold worldwide and translated into nearly 200 languages. Zondervan offices are located in Grand Rapids, Mich.  For additional information, please visit www.zondervan.com. 

The New International Version (NIV) is the world's bestselling modern-English Bible translation—accurate, readable, and clear, yet rich with the detail found in the original languages. The NIV is the result of over 50 years of work by the Committee on Bible Translation, who oversee the efforts of many contributing scholars. Representing the spectrum of evangelicalism, the translators come from a wide range of denominations and various countries and continually review new research in order to ensure the NIV remains at the forefront of accessibility, relevance, and authority. Every NIV Bible that is purchased helps Biblica, a nonprofit ministry organization, translate and give Bibles to people in need around the world. To learn more, visit www.thenivbible.com.

About Comfort Print:
Zondervan Bibles teamed up with 2K/Denmark, the world's foremost Bible typeface foundry, to create exclusive Comfort Print Bible fonts. NIV Comfort Print Bibles are easy to read at any size because the typeface was designed to be both efficient and readable. Zondervan Bibles believes that the beauty of the message should be reflected in the physical form of the book. Choosing the right typeface is one significant element in creating beautiful Bibles.

Contact:  Amy Bigler, Senior Public Relations Manager, Amy.bigler@harpercollins.com  616.698.3514