Zonderkidz to publishing FOX & Friends co-host Ainsley Earhardt's newest book for children
I'm So Glad You Were Born by #1 New York Times bestselling author Earhardt releases September 27, 2022
Grand Rapids, MI – May 10, 2022 – Zonderkidz is pleased to announce that FOX & Friends co-host Ainsley Earhardt will publish a new picture book titled I'm So Glad You Were Born, releasing September 27, 2022, illustrated by Kim Barnes. Dedicated to her daughter Hayden, this book from Earhardt will be for children ages 4 – 8, and focus on the joy that friends and families can bring to others as a reason for gratefulness.  
"We are thrilled to publish this beautiful book with Ainsley," says Megan Dobson, Vice President and Publisher of Zonderkidz. "This book is joyful, uplifting, and celebratory and we expect it to become a read-aloud favorite for children and the adults who love them. Helping children understand how precious and loved they are in these times is invaluable."
"My mother always told us on our birthdays each year how glad she was that we were born—and now I love saying that to my daughter, Hayden," says Earhardt. "This book celebrates all the reasons we are so glad our children are born and how special they are. It reminds children they have a purpose, there's a plan for their life, that God loves them and they are worthy of having a wonderful life. This book is about noticing the traits that make a child special, and I hope it helps parents, grandparents, and caregivers to slow down and take the time to tell the children in their lives how grateful and appreciative they are for all the special things that make a child who they are."
Earhardt shared news about the book this morning on FOX & Friends. A link to the announcement can be found at her website: https://ainsleye.com/videos/ainsley-earhardt-announces-her-new-childrens-book-im-so-glad-you-were-born/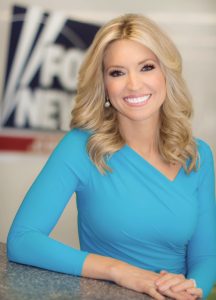 Ainsley Earhardt is the author of three New York Times bestsellers, including two #1 childrens bestsellers, Through Your Eyes and Take Heart My Child. She hosts a Bible Study with Fox Nation and has over one million followers on her social media platforms combined. Earhardt has been a co-host on the popular FOX & Friends morning show since 2016.
Tour dates and appearances with Earhardt will be announced this summer. A full-scale marketing, digital and publicity campaign for the book is in process.
This is a one-book deal, acquired by Dobson, with agent Cait Hoyt of CAA representing Earhardt. Illustrator Kim Barnes is represented by Robbin Brosterman of Bright Group.
Advance reader copies will be available upon request; please contact Publicity Director Jessica Westra at jessica.westra@harpercollins.com or velvet@theMcollective.com.
Hardcover w/Jacket, $18.99 – 9780310777021
(ePub, $14.99 – 9780310776673, audio book to be read by author)
32 pages, 10 x 10 spot UV, foil
9.27.22 On Sale
Zonderkidz™, the children's division of Zondervan, inspires young lives through imaginative, innovative and educational resources that represent a Christian worldview and build up God's children and teens. For additional information, please visit www.zonderkidz.com.
Zondervan is a world-leading Bible publisher and provider of Christian communications. Zondervan, as part of HarperCollins Christian Publishing, Inc., delivers transformational Christian experiences through its bestselling Bibles, books, curriculum, academic resources and digital products. The Company's products are sold worldwide and translated into nearly 200 languages. Zondervan's offices are located in Grand Rapids, Michigan. For additional information, please visit www.zondervan.com.
Media Contact: Jessica Westra, Director of Publicity, Zonderkidz, Jessica. Westra@harpercollins.com