Zonderkidz to publish Senate Chaplain Barry Black's
first book for children
A Prayer for Our Country: Words to Unite and Inspire Hope releases June 7, 2022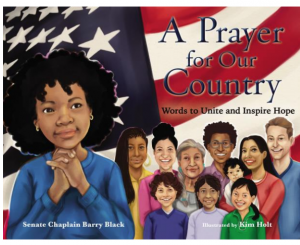 Grand Rapids, MI – May 4, 2022 – Zonderkidz is pleased to announce that U.S. Senate Chaplain Barry Black will publish a picture book titled, A Prayer for Our Country: Words to Unite and Inspire Hope releasing June 7, 2022, illustrated by Kim Holt. This book from Black will be for children ages 4 – 8, and focus on celebrating everything that makes America an amazing place, helping children thank God for all the beauty, neighbors, friends, and more while encouraging all Americans to come together and heal the hurts that divide.
"This unique book filled with the wise words of prayer from the esteemed Chaplain Barry Black, coupled with illustrations from Kim Holt that highlight the beauty and diversity of America, will be treasured by readers and those who desire a united country," says Megan Dobson, Vice President and Publisher of Zonderkidz. "Black helps point the way for children to pray for their country, thank God for their blessings, and to think about how they can be living lights."
"I am dedicating this book to my mother, who taught me to love God's Word and how to pray," says Black. "Children have such capacity to lead us in finding the words that inspire all of us to model God's love and create a future that is strong and united."
'Great God, we admit that we face big problems.
Sometimes we feel scared, hurt or even lost.
It's easy for us to be overwhelmed by the work we need to do.
But we know that You are always with us.
Give us wisdom to understand that You are stronger than any challenge we face.'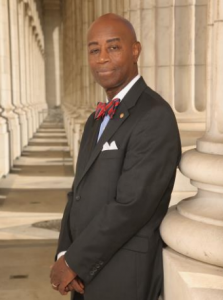 Senate Chaplain Barry Black is a Baltimore native who has been selected for many outstanding acheivements, including the NAACP Renowned Service Award for his contribution to equal opportunity and civil rights. Prior to Capitol Hill, Chaplain Black served in the U.S. Navy for over twenty-seven years, ending his distinguished career as the Chief of Navy Chaplains. He has authored five other books, including his autobiography, From the Hood to the Hill.
Black and his wife reside in Orlando, Florida and have several children. Black will be participating in the National Day of Prayer on May 5 and has been selected to speak at the American Library Association's Annual Conference in Washington D.C. in June.
Copies of the book and interviews are available upon request; please contact Publicity Director Jessica Westra at jessica.westra@harpercollins.com.
A Prayer for Our Country: Words to Unite and Inspire Hope
Authored by Senate Chaplain Barry Black, illustrated by Kim Holt
Hardcover w/Jacket, $17.99 9780310771234 June 7, 2022 On Sale
Zonderkidz™, the children's division of Zondervan, inspires young lives through imaginative, innovative and educational resources that represent a Christian worldview and build up God's children and teens. For additional information, please visit www.zonderkidz.com.
Zondervan is a world-leading Bible publisher and provider of Christian communications. Zondervan, as part of HarperCollins Christian Publishing, Inc., delivers transformational Christian experiences through its bestselling Bibles, books, curriculum, academic resources and digital products. The Company's products are sold worldwide and translated into nearly 200 languages. Zondervan's offices are located in Grand Rapids.
Media Contact: Jessica Westra Director of Publicity, Zonderkidz Jessica.westra@harpercollins.com