"You, Happier" by Daniel G. Amen, MD, achieves bestseller status in release week
Carol Stream, Ill. — (April 1, 2022) — You, Happier: The 7 Neuroscience Secrets of Feeling Good Based on Your Brain Type by Daniel G. Amen, MD, which released on March 22, 2022, from Tyndale Refresh, quickly skyrocketed to bestseller standing.
In its release week, the title debuted at #3 on the Publishers Weekly Bestsellers and #4 on the Wall Street Journal Bestsellers lists, both in the hardcover nonfiction category. It also debuted at #21 on USA Today's bestselling books list, spanning all categories.
In You, Happier, Dr. Daniel Amen shares that happiness is a brain function. With a healthier brain always comes a happier life.
He reveals the seven neuroscience secrets to becoming more than 30 percent happier in just 30 days—regardless of your age, upbringing, genetics, or current situation. After studying more than 200,000 brain scans of people from 155 countries, Dr. Amen has discovered five primary brain types and seven neuroscience secrets that influence happiness. In You, Happier, he explains these findings and offers practical, science-based strategies for optimizing your happiness.
Of this bestselling release, executive publisher Jan Long Harris shares, "The success of You, Happier makes us very happy because it offers so much practical help to those who want to become happier and healthier, which is almost everyone. It's packed with information that readers can use to improve their brain and feel better as a result."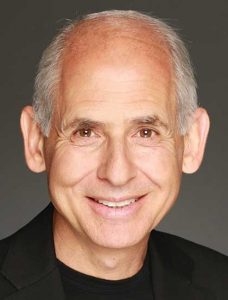 Dr. Daniel Amen's mission is to end mental illness by creating a revolution in brain health. He is dedicated to providing the education, products, and services to accomplish this goal. Dr. Amen is a physician, adult and child psychiatrist, and founder of Amen Clinics with 10 locations across the United States. Amen Clinics has the world's largest database of brain scans for psychiatry. He is the founder of BrainMD, a fast-growing, science-based nutraceutical company, and Amen University, which has trained thousands of medical and mental health professionals on the methods he has developed. In addition, he has produced 16 national public television shows about the brain, and his online videos on brain and mental health have been viewed over 300 million times. Dr. Amen is a 12-time New York Times bestselling author. His books include Change Your Brain, Change Your Life; The End of Mental Illness; Healing ADD; and many more.
Since its founding in 1962, Tyndale House Publishers has been a voice to trust for generations of readers. Today, Tyndale is one of the largest independent Christian publishers in the world. Tyndale's mission is to make the Bible accessible to as many people as possible in language that they can relate and respond to. Tyndale publishes the Holy Bible, New Living Translation (NLT), and offers nonfiction books that equip readers with Christ-centered insight, counsel, and life-improving stories. In addition, Tyndale publishes fiction from fresh new voices and celebrated authors alike, capturing the imagination of millions of readers. With a deep understanding of the importance of nurturing future generations, Tyndale also publishes children's products that make God's Word and wisdom come alive. Tyndale's independent status allows it to follow its founding model, giving a majority of annual revenue—more than $110 million throughout its history—to charitable missions. With every book purchased, Tyndale readers help meet the physical and spiritual needs of people around the world.
For more information or for media inquiries, please contact Katie Dodillet, katiedodillet@tyndale.com.