WorthyKids partners with J.D. Peabody on new middle grade fantasy series
The Inkwell Chronicles series debut scheduled for September 2022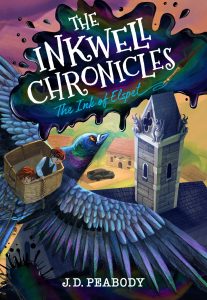 (Nashville, TN) – WorthyKids, an imprint of Hachette Book Group, is excited to announce a new partnership with debut author J.D. Peabody to release an exciting fast-paced middle grade fantasy series, The Inkwell Chronicles. Book 1 of the series, The Ink of Elspet, is set to release in September 2022, with book 2 following in 2023.
"I began this project as a labor of love," says Peabody. "It's been my way of paying tribute to the books that captured my imagination when I was young. Hopefully, another generation will have as much fun reading this series as I have had writing it."
In the first book of the series, siblings Everett and Bea discover a curious pen with magical Ink that opens their eyes to impossible magic, formidable allies, and dangerous villains who are determined to destroy everything they hold dear. It's a knock-your-socks-off debut tied together with a moving message—that powerful change can be achieved by just one creative mind, one open heart.
"When I first read the manuscript for The Ink of Elspet, I was struck by the richly imaginative world J.D. Peabody had built," says Melinda Rathjen, senior editor at WorthyKids. "The story read like a movie script and was bursting with action, humor, and heart. I felt the same way I had reading A Wrinkle in Time for the first time—utterly captivated."
Perfect for fans of The Silver Arrow and the Bookwanderers, as well as fans of C.S. Lewis and J.R.R. Tolkien, this classic battle of good and evil can be enjoyed by ages 8–12—and anyone who loves fantasy. The series debut will be supported with a national publicity campaign, trade and consumer advertising, bookstagram tour and influencer outreach, and school & library promotions. Follow along with the Inkwell Chronicles on social media at #FindTheInkwells.
Author J.D. Peabody has been honing his storytelling skills since childhood, in contexts as varied as advertising, song lyrics, screenplays and sermons. He and his wife live in the rainy but beautiful Pacific Northwest. J.D. is also the author of the upcoming book for grown-ups entitled, Perfectly Suited.
WorthyKids is an imprint of Hachette Nashville, creating colorful and engaging books from board books to middle grade for ages 1 to 12.