Worthy to release new book by NYT bestseller John Hagee that is "ripped from tomorrow's headlines"
Coming 

September 18

, What the Bible Tells Us About Today's Turbulent Political Landscape and What That Means for the Future of the World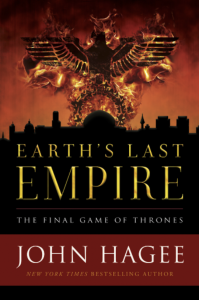 SAN ANTONIO – August 15, 2018 – It's a story ripped from today's—and tomorrow's—headlines. The Middle East on the brink of conflict. Russia now in the Middle East. A federation of European nations.
From New York Times best-selling author John Hagee comes Earth's Last Empire: The Final Game of Thrones, a can't-put-down book that brings the Bible to vivid life as it reveals God's hand in human history—and His plans for the future.
"Although we live in the Information Age, we're the most uninformed generation in history regarding God's plan for the future," Hagee said. "When almost one-fourth of the Bible was prophetic at the time it was written, it certainly benefits us to study it."
With nearly 40 books to his credit, including several New York Times best-sellers, Hagee states, "Everything I've written in the past has led to this culmination of truth from the prophetic scriptures in Earth's Last Empire."
Drawing on his decades of studying and preaching God's Word, meticulous scholarly research and a flair for communicating truth in a compelling, readable style, Hagee's Earth's Last Empire explores:
The central importance of Jerusalem in world history, our present and our future.
How human empires over the centuries have led to where we are today . . . and how that affects every person on earth
A "Bible snapshot" of prophecy in scriptures and how it plays out today . . . and tomorrow.
Drawing biblical insight and wisdom from Genesis to Revelation—Earth's Last Empire puts today's stormy political landscape in context. And it looks ahead to where today's events—particularly in the Middle East—might be leading. And, finally, Earth's Last Empire brings readers to a place of hope, showing God's hand on nations and individuals throughout history and a promised future where there will be a world of perfect peace.
From Worthy Publishing, Earth's Last Empire  is available online for pre-order now and for sale in stores and online September 18, 2018.
John Hagee is the author of multiple best-selling books, which have been enjoyed by millions of readers, including his most recent best-sellers, Four Blood Moons and The Three Heavens.
For interviews, contact: Michael Conrad Michael@Lovell-Fairchild.com 214-616-0320
For more information on Earth's Last Empire, visit: JHM.org
For press material, visit: Lovell-Fairchild.com
About Pastor John Hagee JHM.org
John Hagee is founder and senior pastor of Cornerstone Church in San Antonio, Texas, a non-denominational evangelical church with more than 22,000 active members. He also founded John Hagee Ministries, which broadcasts the Gospel on radio and television throughout America and the world, and is the founder and Chairman of Christians United for Israel, which has grown to become the largest Christian pro-Israel organization in the United States—with over 4.3 million members.  John Hagee was recognized by the Embassy of Israel in Washington D.C. as one of the 70 greatest American contributors to the U.S.-Israel relationship. John Hagee has authored 40 books, several of which were on the New York Times best-sellers list, including Four Blood Moons, which was also an award winning blockbuster in 2015.
About Worthy Publishing Group WorthyPublishing.com
A privately held, independent voice in inspirational publishing, based in Nashville, Tennessee, Worthy Publishing Group has five divisions. Worthy Books publishes a broad spectrum of genres, including current events, pop culture, biography, Bible study, fiction, spiritual growth and specialized Bibles. Worthy Latino publishes trade titles for Spanish and Portuguese markets. WorthyKids and its Ideals imprint create colorful, interactive children's books for ages 2 to 8. Ellie Claire produces beautifully crafted journals, gifts and paper expressions, and Worthy Inspired publishes quick-read, felt-need personal growth, inspirational and devotional books.
CONTACT: Michael Conrad 214-616-0320  Michael@Lovell-Fairchild.com