World-renowned illusionist and speaker pens marriage book
No, I Can't Make Your Wife Disappear: A Magician's Guide for a Magical Marriage
Danny Ray Pulls Back the Curtain and Shares the Secrets to Creating Strong Bonds with Your Spouse that will Last a Lifetime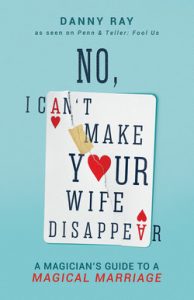 Birmingham, AL – From LA's famed The Magic Castle, to a national reality show, to venues around the globe, Illusionist Danny Ray has mystified and entertained audiences with his unique blend of magic, humor, and inspiration.  Now, with his debut book, "No, I Can't Make Your Wife Disappear: A Magician's Guide for a Magical Marriage", Ray uncovers the secrets to a happy, enduring marriage by sharing biblical principles and lessons he has learned in his decades-long entertainment career.  Releasing through Iron Stream Media, "No, I Can't Make Your Wife Disappear" will be available at most major retailers and online on November 16, 2021.
Danny shares, "Kimberly and I just celebrated our 25th anniversary, and while it hasn't always been easy, we have learned how to communicate and make our relationship stronger. There are some basic principles that we have learned over the years, and we hope to inspire couples to focus on and develop strong bonds that can't be broken."
"No, I Can't Make Your Wife Disappear" is a light-hearted, practical, and sometimes hard-hitting guide to a stronger relationship with your spouse. Broken down into short topics and easy to apply ideas and recommendations, the book shares Danny's experiences, biblical truths, and wise counsel, as well as Kimberly's reflections and thoughts.
"No, I Can't Make Your Wife Disappear" is divided into three sections: Secrets to Communicating Effectively, Secrets to Overcoming the Impossible, and Secrets to Thriving in Marriage. Each chapter also offers a brief takeaway, leading questions, and a plan of action to begin to apply the concepts presented.
He continues, "Your marriage can be enduring and magical! Kimberly and I are proof!  It takes practice, attention to detail, and a lifetime of learning effective communication, but isn't your most important human relationship worth it?. Invest in building up and prioritizing your spouse, and watch your relationship thrive into what God intended."
"No, I Can't Make Your Wife Disappear" is published by Iron Stream Media and is available at all major book retailers and online on November 16, 2021.
About Iron Stream Media:  Making disciples as we go.  Iron Stream media derives its name from Proverbs 27:17, "As iron sharpens iron, so one person sharpens another."  This sharpening describes the process of discipleship, to one another. Iron Stream Media provides a variety of solutions for churches, missionaries, and nonprofits that include in-depth bible study curriculum, Christian book publishing, and consultative series. Iron Stream Media is the home of Iron Stream Books, Brookstone Creative Group, Iron Stream Kids, Iron Stream Harambe, and Iron Stream YA. Through the popular Life Bible Study and Student LIfe Bible Study imprints, they also provide web-based year and short -term Bible study teaching plans as well as printed devotionals, Bibles, and discipleship curriculum.  https://www.ironstreammedia.com/
About Danny Ray:  Danny Ray has been performing his signature jaw-dropping illusions for nearly three decades. He has performed in almost all 50 states. He also has visited 21 different countries, performing for churches, organizations, and businesses. Danny is regularly featured at the world-famous Magic Castle in Hollywood, California.  He also is a pastor, with a Master's degree from Fuller Theological Seminary. He was a full-time youth pastor for more than ten years, and continues to work and partner with local churches and ministries around the country. Danny's heart is to communicate God's Word, using the skills of illusion that he has developed through years of practice and performance to impact the lives of others.  Passionate about speaking and preaching, Danny and his wife Kimberly love to help couples develop stronger relationships. They have been married for twenty-five years, have three children (two in college), and have faithfully navigated the ups and downs of marriage. Their story is compelling, and when combined with Danny's magic and the life-changing message of the Gospel, it is truly inspiring.  http://www.dannyraymagic.com
About Kimberly Ray:  Kimberly is the wife of Danny Ray. Together they started a ministry twenty years ago that has allowed Danny to travel the world sharing the Gospel through his amazing magic. While Danny was on the road most weekends, Kimberly ran the business from home, often answering clients' phone calls crouched down on the floor of her closet where she found a little bit of temporary quiet from their three young children. Over the years, she has spent many hours co-leading church small groups, marriage groups, and pre-marital groups. She is a certified facilitator for Prepare & Enrich. Today, their two sons are grown and pursuing higher education while their youngest, a daughter, remains at home to finish high school. Kimberly is currently pursuing her Master's degree in Psychology and is working on her Marriage and Family Therapy license. She claims to not have any hobbies or magical talents, but if she is not reading or working these days, she can be found enjoying a cup of coffee and spending time with her family.
Contact: Lori Heiselman, Lori@BiscuitMediaGroup.com, 714-553-5181
Suggested questions:
Magicians are supposed to keep secrets! Why write a candid and open book about marriages?
How has your career in magic helped prepare you to have a strong marriage?
You've been married for 25 years – is there one primary lesson you want to share with other couples?
How did you come up with the 3 sections that are highlighted in the book?
Talk to us about your career – you've had an exciting 2021!
What's next for you?