Wisdom for the Ages from Francis of Assisi
in two stunning new titles from Paraclete Press
Paraclete Press is pleased to release two new additions to its treasury of titles on St. Francis!
In The Canticle of the Creatures for Saint Francis of Assisi, celebrated Italian poet Luigi Santucci and American artist Br. Martin Erspamer lend heart and imagination to the "Canticle of St. Francis," one of the most beloved texts in all the writings of St. Francis.
Honoring the spirituality of this holy man who preached and listened to man and beast alike, Santucci takes the sermons that Francis bestowed on the birds, the wolf of Gubbio, and so many other creatures, and allows his wisdom to come back to us through the voices of those creatures, providing us with a new classic of Franciscan spirituality.   [Look inside.]
In the tradition of The St. Francis Prayer Book, Jon M. Sweeney offers an ancient-medieval way of understanding and experiencing the Gospel in The St. Francis Holy Fool Prayer Book.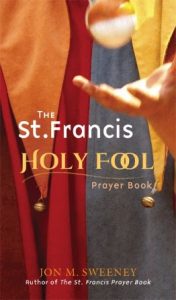 The countercultural approach of the "Holy Fool" is exemplified in the life and teachings of Francis of Assisi, the most popular Saint in history, and his good friend, Brother Juniper. What does it mean to be a fool for Christ? It meant to St. Francis: being small not strong, valuing joy over pleasure, avoiding positions of power, and enjoying rather than avoiding moments of insecurity, fear, and awkwardness. These practices revealed to the first Franciscans how being foolish in the eyes of the world is a sure way to discover a renewed sense of the presence of God. Includes a week of daily offices focused on the concept of the Holy Fool and spiritual practices for countercultural living.
[Read the introduction to The St. Francis Holy Fool Prayer Book here.]
To request review copies, please contact rachelm@paracletepress.com.