WaterBrook's NYT bestseller "Fearless" to be adapted to film
KINGDOM STORY COMPANY TO ADAPT NEW YORK TIMES BESTSELLING SEAL TEAM SIX STORY "FEARLESS" INTO FILM DIRECTED AND PRODUCED BY ANDREW ERWIN
Kevin Downes to Join as Producer With Mark Ciardi
Screenplay by Academy Award®nominee Jason Hall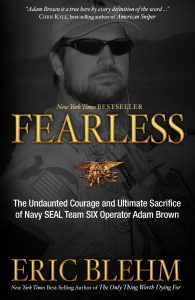 SANTA MONICA, Calif., July 26, 2022 – Kingdom Story Company has acquired the rights to adapt the New York Times bestseller Fearless by Eric Blehm and has hired screenwriter Jason Hall, best known for his Academy Award®-nominated work on American Sniper and most recently wrote Gran Turismo for Sony Pictures, to adapt the screenplay. 
The announcement was made today by Kingdom Story Company co-founders Andrew Erwin, who will direct the film, and Kevin Downes, who will join Erwin in producing the feature along with Mark Ciardi and Jon Erwin. Kingdom Story Company has a distribution deal with Lionsgate. 
The film will tell the story of SEAL Team Six commando Adam Brown, a legendary hero who repeatedly overcame personal demons, including drug addiction and jail, to fulfill his childhood dream of becoming a member of the elite Navy SEAL team. Supported by his family and drawing on his faith, Brown's story of perseverance, heroism, and sacrifice is an inspiring story of patriotism and selflessness. 
"Eric Blehm's bestselling book absolutely captivated me," said Andrew Erwin. "Adam Brown's journey from destructive addiction to the front lines with the Navy Seals is the most human redemption story I've ever read. Adam is a true American hero who overcame insurmountable odds to earn his way onto Seal Team Six, and the love story and the strong faith he had with his wife Kelley was truly special. We are tremendously honored to bring this story to life, and I can't think of a better person to write this than Jason Hall. We are all honored by the trust the Brown family has placed in us to tell this story."
Downes added: "This film is right in Andy's wheelhouse. Fearless will not only take you behind enemy lines with SEAL Team Six, but into the heart and soul of one man and how he found the strength to step up. With its exciting setting among our country's most valiant heroes and a story that delves deep into what it means to show true valor, Fearless will be a highly cinematic, compelling film."
Added Kelley Brown, who was married to Adam Brown, "We are so blessed that such an amazing team will bring Adam's story – as told in Fearless – to the big screen. His legacy is in good hands." 
Andrew Erwin and his brother Jon previously directed American Underdog, I Still Believe, and I Can Only Imagine, among others. Fearless is published by Penguin Random House.