W Publishing to release new book by Pastor Levi Lusko
about how to live up in a left, right world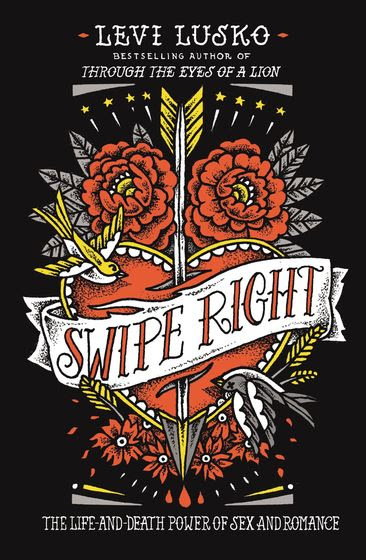 In February 2017, a new book is coming about how to live up in a left, right world.  Swipe Right: The Life-and-Death Power of Sex and Romance (ISBN: 9780718035839) is a book about life, death, sex, and romance.
For better or for worse, interactions with screens are now irreversibly entangled into the fabric of our lives. We swipe right to answer calls, unlock our iPhones, respond to Snapchats, browse through photos, and respond to emails. With our fingertips dancing across devices, we navigate our way through life.
For the now more than 100 Million Americans on dating apps like Tinder, swiping right is increasingly the first step towards initiating no-strings-attached sexual encounters. Sex is being stripped of any emotional or spiritual significance by successive generations and is simply viewed as a physical source of pleasure and enjoyment. All of this is a reality, the real question is at what cost?
In Swipe Right, Pastor Levi Lusko offers compelling reasons to make wise choices in matters of the heart. He encourages readers to live each day knowing their present choices will immediately become a part of their pasts, and that their pasts will inevitably come back to visit them in the future.
He wants to help regret-proof the marriage bed but also to help those that may have already messed up to know that all is not lost.With equal parts prevention and cure, Swipe Right will broaden the discussion to include married people, those dating, and those who have racked up consequences but need to know it's never too late to do the right thing and experience God's best. (In fact, Levi offered a free 5-step guide on the dreaded "sex talk" online, and thousands of parents signed up.)
Always the master of culturally relevant references and lingo, and yet biblically based and spiritually sound, Levi's approach using the Tinder dating app analogy of swiping right to accept something is a powerful crossover to the general market filled with people who have racked up life-altering challenges based on their choices.
Levi Lusko is the pastor of Fresh Life Church, a multi-site church in Montana and Utah that he and his wife Jennie pioneered in 2007. His passion for the gospel led him to start Skull Church, an evangelistic event bringing an undeniable call to hope in the cross for this generation.
For twelve years Levi, his wife Jennie, and their team, have put on an evangelistic purity conference called the O2 Experience. Traveling across the United States, he has appeared in three to five cities each year, bringing a fresh perspective on sex and romance, and challenging thousands of teens and unmarried young adults to rise up in strength and honor.
We believe Levi has just begun to make his impact on the world. He is on Air 1 nationwide radio with daily 60-second micro-teachings called "59 Seconds of Hope", has a weekly TV show available across Montana and through webcasts and podcasts, and frequently travels nationally and internationally to churches, universities, and even stadiums bringing messages of hope, help, and promise.
Through the course of working on the first book, Through the Eyes of a Lion, with Levi we found his connection to today's culture, uniqueness, accessibility, tireless work ethic, spiritual depth, and commitment to be over-the-top. He has tremendous momentum, especially from the success of the first book which sold over 100k copies.
For more information and interview opportunities, please contact: Kimberly Golladay at kimberly.golladay@harpercollins.com or (615)-902-2217