Viral YouTube sensation Pastor Michael Todd releasing debut book, "Relationship Goals"
Based on the Sermon Series of the same name with over 15 million views, book is a candid, inspiring guide to finding lasting love by getting real about relationship goals for dating, marriage, and sex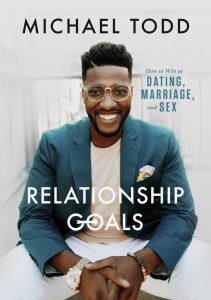 COLORADO SPRINGS, Colo. – Michael Todd, the lead pastor of Transformation Church in Tulsa, OK, and a fresh and honest voice resonating with millions of people across the country is releasing his debut book, Relationship Goals: How to Win at Dating, Marriage, and Sex (WaterBrook, Hardcover) and the companion Relationship Goals Study Guide (WaterBrook, Trade Paper) on April 28, 2020. Todd is convinced that many people lack the tools or vision to build healthy relationships and thus encounter hurt, heartache, and hang-up's. He believes that with proper aim and the right goal anyone can win at relationships. With biblical wisdom shared in a relevant and progressive manner, he engages readers in a unique conversation that counters today's cultural norms.
Todd, who has over 53 million total views on his YouTube channels (YouTube: Transformation Church, Re-Present TV), pastors 5,000 people in physical attendance and over 25,000 people online each week. His "Relationship Goals" sermon series has been viewed more than 15 million times. Transformation Church recently purchased the SpiritBank Event Center in Tulsa, where the congregation now meets to accommodate the church's explosive growth.
"We live in a world that has more and more relationships and less and less love, more and more sex and less and less intimacy," says Todd. "When I think about the pain I've experienced and have seen others experience from bad relationships, I can't wait to share what the Bible says about how to do relationships, so that people can minimize the pain and start to benefit from the rewards. To do that, you've got to have a goal."
By charting a course that candidly examines people's most common relationship pitfalls and unpacking God's Word, Todd hopes this book will transform a trendy hashtag into a future where the most cherished relationships thrive in relational life, hope, and abundance.
Michael Todd is the lead pastor of Transformation Church, (https://transformchurch.us/) in Tulsa, Oklahoma. His driving passion is representing God to the lost and found for transformation in Christ. Todd speaks at a variety of influential churches, events, and conferences each year, including Elevation Church, C3 Conference, Lakewood Church, VOUS Conference, Relentless Church, XO Conference, Catalyst Conference, and this past November at Kanye West's "Jesus is King" event at the Forum in Englewood, CA. He will also be speaking at Bishop T. D. Jakes's International Leadership Summit in April with Tyler Perry, Keion Henderson, Steven Furtick, and many others.  Todd and his wife, Natalie, have been married since 2010 and live in Tulsa, Oklahoma, with their three beautiful children: Isabella, Michael Jr., and Ava, affectionately known as "The Todd Squad".
WaterBrook is an imprint of Random House, a division of Penguin Random House.