Viral TikTok creator @greyandmama to release book, "Thank You, Mama" with Tommy Nelson
THE VIRAL TIKTOK CREATOR BEHIND @GREYANDMAMA TO RELEASE THANK YOU, MAMA—ALREADY A #1 NEW CHILDREN'S BOOK ON AMAZON–ON APRIL 19, IN TIME FOR "EVERY KID HEALTHY WEEK" AND MOTHER'S DAY
Seattle-based Vietnamese mother and social media influencer Linda Meeker, known by her handle @Greyandmama, takes children on a culinary journey with her son, Grey, as he excitedly explores different foods to discover his favorite. As young hearts learn gratitude, manners and openness to cuisines and cultures, this playful picture book also gives adults a new and fun way to share the love of food and family with their kids.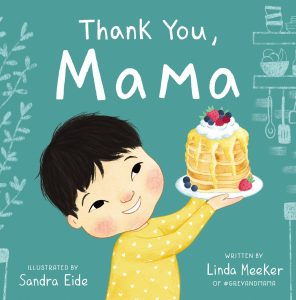 NASHVILLE, Tenn. (March 24, 2022) – When the nature of today's news is often negative, it's particularly refreshing to come across content that brings a smile to people's faces. On Mother's Day 2020, Linda Meeker ("Mama") and her young son, Grey, won the Internet's heart with their viral TikTok compilation video "Thank You, Mama."
Grey, who was two-and-a-half years old at the time, charmed audiences as he politely and enthusiastically thanked his mother every time she handed him a meal or snack. Pancakes and pineapple? Thank you, Mama! Chestnuts and cheese? Thank you, Mama! Edamame and egg rolls? Thank you, Mama. Since young children tend to be such picky eaters, parents everywhere were astonished and delighted at Grey's outright gratitude, not to mention intrigued at the variety of foods he was eating.
His joy was nothing short of contagious. And what was created as a loving mom's personal video quickly went viral, growing Meeker's TikTok audience to 6 million followers and counting. Now, almost two years later, this dynamic duo is moving to print with Meeker's debut children's book, Thank You, Mama (Thomas Nelson, ISBN: 9781400231454, April 19, 2022).
Thank You, Mama is a fun, beautifully illustrated picture book for children ages 3-7 that features Grey and his family (including his dog Rambo) moving through their day and eating delicious meals and snacks. Meanwhile, the young boy is trying to choose which is his favorite.
Throughout the book, Grey's parents, aunt and grandmother, take him on his "culinary quest," exposing him (and all of Grey's fans) to foods from different cultures. The book even opens with an adorable note from "Rambo" about how Grey can thank his grandmother in the family's native language: "Cảm ơn is Vietnamese for thank you. Say it like this: cahm-un. Ngoại is Vietnamese for grandmother. Say it like this: n-gwai."
Parents and grandparents trying to instill joy, gratitude, manners—and encourage a creative palate—in their children will thoroughly enjoy Thank You, Mama. Its cheerful story about an adorable, curious and kind child will have boys and girls everywhere saying "thank you" . . . and maybe even giving those peas a chance!
With its wholesome, relatable message, Thank You, Mama is a great addition to every child's library. Besides being the perfect gift for baby showers, birthdays or for little ones who are scared to try new foods, this book would make a fun Mother's Day gift. It's also being released in time for Every Child Healthy Week (April 25-29).
This playful picture book:
follows a little boy as he explores different foods—from vegetables to sushi—and tries to pick his favorite
encourages children to try new foods and become happy, healthy eaters with an expansive palate
honors the bond between parent and child
models respect, manners, good eating habits and thankfulness from an early age
builds vocabulary and pre-reading skills with colorful food illustrations that are accompanied by words for each item
While Grey's gratitude is a central theme in Thank You, Mama, Meeker also aims to remind adults to intentionally practice gratitude themselves. "I knew exactly how I wanted the book to end even before I wrote it, which is me saying 'Thank you, Grey.' A lot of the time," explains Meeker, "we talk about gratitude from the perspective that a child should be thankful to their parents, but we often forget that parents should also be thankful to their children."
Thank You, Mama is available April 19, 2022 everywhere books are sold.
About the Author, Linda Meeker: Linda Meeker of @Greyandmama stumbled upon social media popularity as this toddler mom shared sweet videos of her son, Grey, learning to say thank you. Expressing gratitude was a value instilled in Linda as a child raised in a Vietnamese family, so she was delighted that the simple act of her two-year-old saying "thank you" received such an overwhelming reaction on TikTok and Instagram. Linda, her husband, and Grey live in Seattle, Washington. Learn more about Linda and her new book at greyandmama.com/thank-you-mama-book, and follow @greyandmama on TikTok and Instagram.
About Tommy Nelson: Tommy Nelson® is the children's division of Thomas Nelson. As a leading provider of Christian content, Tommy Nelson publishes a wide variety of high-quality, enjoyable products that are consistent with the teachings found in the Bible. Tommy Nelson's award-winning products are designed to expand children's imaginations and nurture their faith while inspiring them to develop a personal relationship with Jesus. For more information, visit tommynelson.com.
Media contacts:
Natividad Lewis, natividad.lewis@harpercollins.com
Jen Roberts, jen.roberts@harpercollins.com