Viral Stars Chris and Emily Norton to
publish memoir with Zondervan
The Seven Longest Yards: Our Love Story of Pushing the Limits While Leaning on Each Other Releases July 2019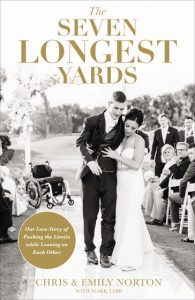 Grand Rapids, Mich., January 7, 2019 — National speaker and viral star Chris Norton and his wife, Emily, have announced that they will be sharing their miraculous story in The Seven Longest Yards, set to release July 9, 2019, with Zondervan. Quadriplegics do not simply walk again—yet millions have seen Chris Norton take ten impossible steps at his college graduation, with Emily supporting him. Those unbelievable steps started an extraordinary journey for them both.
The Nortons are represented by Rick Richter with Aevitas Creative Management; world rights were acquired by Zondervan associate publisher Stephanie Smith. The Nortons exclusively shared the uplifting book's cover with their fans on social media. Over 15 million people viewed the viral wedding video where Emily supported Chris down the aisle. People magazine exclusively covered their wedding, and recently Will Smith also shared part of their wedding video on Instagram. You can pre-order the book now. Visit www.ChrisNorton.org to learn more.
The Seven Longest Yards describes how Chris went—in just a moment—from a talented 18-year-old football player with a promising future, to flat on his back with a broken neck and a  three percent chance of ever being able to move anything below his neck. Determined to prove the doctors wrong, Chris pushed himself through grueling, daily workouts until four years later, when he walked across the stage to receive his diploma, with Emily's help and the world's astonished applause. Meanwhile, Emily faced her own battle against anxiety and depression and couldn't shake the mental darkness that clouded their promising future.
Day by day, decision by decision, Chris and Emily committed themselves to taking the extra step, trusting God, and leaning on the help of others, in a story of unforgettable grit and courageous faith. This journey led them ultimately to the longest seven yards they walked together: down the wedding aisle and into a new life. Readers will follow Chris and Emily as they welcome foster children—15 and counting!—into their home and hearts, and as they continue to trust a God who transforms our lowest points into life's greatest gifts.
Weaving both Chris and Emily's unique perspectives together for an unforgettable experience, The Seven Longest Yards is a stirring invitation to put one foot in front of the other, especially in the face of the impossible.
"Few people exhibit the power of perseverance like Chris and Emily, who have wowed our team from the beginning with their can't-stop, won't-stop outlook toward the high goals they share," says Stephanie Smith, associate publisher, Zondervan. "They bring new definition to the term 'power couple,' and their book is nothing short of a power read for anyone in need of fresh courage for facing life's challenges."
"Chris and Emily are two of the most inspirational people I've ever met," says Tom Dean, vice president of marketing, Zondervan. "We are delighted to bring their amazing story to the world—readers will be moved, challenged, and, through the reading of their story, will discover how God can redeem and use our darkest life experiences for good."
Chris Norton is an in-demand motivational speaker with a message of hope, resilience, and faith. Currently residing in Florida, Chris wouldn't take back the play that left him paralyzed due to the positive influence his story has had on millions of people worldwide. His Chris Norton Foundation has raised close to one million dollars to help others with spinal cord injuries and other neurological disorders.
Emily Norton's lifelong passion is to make a difference, and she received her degree in family services from the University of Northern Iowa to pursue her dream of helping kids in foster care. Over the last year she and Chris have fostered 15 children, with five currently in their home. Emily believes life is for helping others and making an impact.
Zondervan's marketing and publicity team is planning a major national media launch.
Book Information
Seven Longest Yards: Our Love Story of Pushing the Limits while Leaning on Each Other
by Chris & Emily Norton with Mark Tabb
Release Date: July 9, 2019
Hardcover; $26.99
9780310356929
240 pages
Zondervan is a world leading Bible publisher and provider of Christian communications.  Zondervan, part of HarperCollins Christian Publishing, Inc., delivers transformational Christian experiences through its bestselling Bibles, books, curriculum, academic resources and digital products. The Company's products are sold worldwide and translated into nearly 200 languages. Zondervan offices are located in Grand Rapids, Mich.  For additional information, please visit www.zondervan.com.
Contact: Robin Barnett, 616-698-3251, robin.barnett@harpercollins.com