Tyndale Momentum to publish
"War Story: A Memoir"
Memoir by Steven Elliott—one of two Army Rangers considered likely to have fired the fatal shots that killed former NFL player turned Army Ranger Pat Tillman—to hit stores in May
All of the author's proceeds from the writing of this book will be donated to organizations serving the mental health needs of the active-duty and veteran community.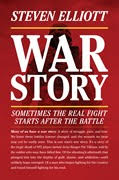 CAROL STREAM, ILL.—Tyndale House Publishers (@tyndalehouse) has announced that it has acquired War Story: A Memoir ($25.99, hardcover, May 2019, 978-1-4964-2991-9), the story of the tragic death of NFL player turned Army Ranger Pat Tillman, told by Steven Elliott, the soldier who may have killed him.
"This memoir is a compelling personal narrative of the unseen wounds of war, and Steven Elliott is much-needed voice in advocating for mental health care for veterans and active-duty military," said Sarah Atkinson, associate publisher. "For both soldiers and civilians, trauma and mental illness still carry societal stigma. We can, and must, do better, and Steven's story is a light helping us find the way. Each book purchased will have a multiplied impact, as Steven is donating 100 percent of his proceeds to serving the mental health needs of the military community."
Every soldier has a war story. Steven Elliott's opens with the death of American hero Pat Tillman by "friendly fire" in Afghanistan—when Army Ranger Elliott pulled the trigger, believing he and his fellow soldiers were firing on the enemy. As it did for so many others, the war that began on foreign soil would follow him home. Tormented by remorse and PTSD after Tillman's death, Elliott descended into the depths of depression and addiction, lost his marriage, doubted his faith, and struggled to stay alive.
An explosive memoir about the chaos of war—and the battle for life in its aftermath—War Story confronts some of humanity's biggest questions: Why do we choose to fight for a country or a cause? What happens when the cost of that fight overwhelms and destroys? Can we forgive, be forgiven, and find hope? At its core, War Story is one man's dramatic personal encounter with war and faith, love and tragedy, destruction and ultimate renewal.
War Story is endorsed by military figures and thought leaders including:
Mark C. Russell, PhD, ABPP; Commander, US Navy (Ret.): "One of the most compelling and moving personal narratives on war-stress injury; moral pain; and the long, twisted road to recovery that I have ever read."
Jay W. Hood, Major General, US Army (Ret.) says Elliott "courageously shares the deeply personal effects of posttraumatic stress. . . . This is an absolute must-read for every professional soldier."
Dave Grossman, Lt. Colonel, US Army (Ret.) and author of On Killing: "An amazing and critically important book. . . . I have read many books to come out of the wars in Iraq and Afghanistan, and War Story has touched and moved me like no other."
The book launch will be supported with a national media tour and comprehensive marketing campaign.
More information is available at https://www.tyndale.com/p/war-story/9781496429919.
Steven Elliott joined the military in 2003 and served as a member of the elite 75th Ranger Regiment. In 2004, he deployed to the Afghanistan-Pakistan border. In the midst of an enemy ambush, he was one of four Rangers who mistook Pat Tillman's position for that of the enemy and fired there. He is one of two Rangers considered likely to have fired the fatal shots. Elliott served the remaining years of his enlistment and returned to civilian life in 2007. Today he is the president of Capstone Trust in Washington State, has served as a volunteer veterans court mentor, and advocates for change in how the unseen wounds of war are recognized and treated. He and his wife, Brook, have two daughters.
Since its founding in 1962, Tyndale House Publishers has been a voice to trust for generations of readers. Today, Tyndale is one of the largest independent Christian publishers in the world. Tyndale's mission is to make the Bible accessible to as many people as possible in language they can relate and respond to. Tyndale publishes the Holy Bible, New Living Translation (NLT) and offers nonfiction books that equip readers with Christ-centered insight, counsel, and life-improving stories. In addition, Tyndale publishes fiction from fresh new voices and celebrated authors alike, capturing the imaginations of millions of readers. With a deep understanding of the importance of nurturing future generations, Tyndale also publishes children's products that make God's Word and wisdom come alive. Tyndale's independent status allows it to follow its founding model, giving a majority of annual revenue—more than $100 million throughout its history—to charitable missions. With every book purchased, Tyndale readers help meet the physical and spiritual needs of people around the world.