Tyndale Momentum to publish memoir by Philadelphia Eagles Quarterback and Super Bowl MVP Nick Foles
Believe It: My Journey of Success, Failure and Overcoming the Odds Will Be Available Everywhere Books are Sold on Tuesday, June 26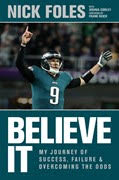 CAROL STREAM, ILL. – Tyndale Momentum (@tyndalehouse) has announced that it has agreed to terms with Nick Foles, Philadelphia Eagles quarterback and Most Valuable Player of Super Bowl LII, to publish his inspiring memoir. Believe It: My Journey of Success, Failure and Overcoming the Odds (ISBN: 978-1496436498, HC, $26.99) will have a street date of Tuesday, June 26. Foles captured America's attention during a remarkable late-season run that saw the 29-year-old signal caller lead the Eagles to their first Super Bowl championship in franchise history. Foles was represented in the contract negotiations by Austin Lyman, director of marketing at Athletes First in Laguna Hills, California. Josh Cooley will be the writing collaborator, while Indianapolis Colts head coach Frank Reich will write the foreword. Foles will donate 100 percent of his proceeds from the book to Christian charities and humanitarian causes around the world.
"I really didn't expect to be writing a book at this point in my life," said Foles, "but I'm excited about the opportunity to tell my story and share my faith. Ever since the Super Bowl, people have been wanting to hear about how we got there and what it was like, which is a big part of the story, but I also want to be transparent about the struggles I've gone through in my life and my career. There's so much pressure right now—especially with social media—to always look like we're perfect, but we're not. At least I'm not, and I think it's important to be open and honest about that, because it's in those moments of weakness when we grow the most.
"Besides the opportunity to tell my story, I'm excited about being able to help some people in need through this project. When we were approached about writing a book, Tori and I prayed about it and decided that, if we do this, we want all the money to go to charities and ministries all around the world. And who better to do that with than Tyndale?"
Said Ron Beers, senior vice president and publisher of Tyndale Books. "We are honored to publish this inspirational memoir by Nick Foles. He has captured the hearts of millions not only because of his superb play on the field but because of his story of how his faith has helped him overcome fear and failure. His example motivates us to live and lead better."
Added Jan Long Harris, executive publisher, "We are delighted to welcome Nick Foles to the Tyndale Momentum family. The world has watched as Nick has lived out his faith—seeing his heart for God and for his team, his incredibly positive attitude and strong work ethic, his candor and grace in overcoming setbacks, and his commitment to staying strong as a husband and father. We can't wait to watch his impact extend over and over again as readers delve deeper into his story."
In week 14 of the 2017 NFL regular season, while playing against the Rams, Eagles quarterback Carson Wentz, who was in the running for league MVP, sustained a torn ACL. Foles entered that game in relief and helped the Eagles clinch their first division title since 2013. In the playoffs, Foles played at an even higher level as he completed 23 of 30 passes for 246 yards in an NFC divisional playoff victory over Atlanta. He followed that performance by completing 26 of 33 passes for 352 yards and 3 touchdowns in the NFC championship game. Two weeks later, in the Eagles' upset of the New England Patriots, he became the first player in Super Bowl history to both throw and catch a touchdown pass  as he completed 28 of 43 passes for 373 yards and 3 touchdowns, earning him MVP honors.
A product of Westlake High School in Austin, Texas, which is the same school that produced Drew Brees, Foles was an All-Pac-12 conference performer at the University of Arizona before being picked in the third round of the 2012 draft by the Eagles. A year later, Foles earned his first Pro Bowl invite, but he struggled at times in the 2014 season, and the Eagles traded Foles to the St. Louis Rams in 2015. After one season in St. Louis, he was released and signed with the Chiefs, where he played for one season. In March 2017, Foles signed a two-year contract to return to Philadelphia.
Foles is currently an online graduate student at Liberty University, earning his master's degree in divinity. He and his wife, Tori Foles, a former University of Arizona volleyball player, have a daughter, Lily James, who was born in 2017.
Tyndale House Publishers has a very successful track record of publishing high-profile sports-related titles, as it published Pro Football Hall of Fame coach Tony Dungy's memoir, Quiet Strength, after he guided the Indianapolis Colts to a Super Bowl win in 2007. Dungy's memoir reached #1 on the New York Times hardcover nonfiction best sellers list and has since become one of the best-selling sports-related memoirs in history, with well over one million copies in print. Several years later, New Orleans quarterback Drew Brees, the MVP of Super Bowl XLIV, released his memoir with Tyndale. Brees's memoir, Coming Back Stronger, debuted at #1 on the Publishers Weekly best sellers list and #3 on the New York Times list.
Foles's book release will be supported by a comprehensive marketing campaign, as well as a national media and book-signing tour that will coincide with the June 26release.
Tyndale House Publishers, founded in 1962, is one of the largest privately held Christian publishers of books, Bibles, and digital media in the world. Tyndale Momentum, Tyndale's nonfiction imprint, is the publisher of many New York Times best sellers and is known for integrity in building lasting personal relationships with authors and agents. Tyndale extends the ministry of its authors by contributing most of its profits to the nonprofit Tyndale House Foundation, which makes grants to help meet the physical and spiritual needs of people around the world. Originally founded to publish The Living Bible, a contemporary paraphrase of the Bible that became a global publishing phenomenon, Tyndale now publishes the Holy Bible, New Living Translation (NLT), the translation of choice for millions of people.