Tyndale Kids to release updated board book versions of beloved titles, "Big Thoughts for Little People" and "I Couldn't Love You More"
Carol Stream, Ill. (August 4, 2021) — Tyndale House Publishers (@tyndalehouse) will release board book versions of Big Thoughts for Little People ABC by Kenneth N. Taylor and I Couldn't Love You More by Jason Ingram and Matt Hammitt on October 5.
A children's favorite for decades, Taylor's best-selling book is now updated with all-new bright and colorful illustrations in a durable board book format. Using the alphabet as a learning tool, the book connects Bible themes and verses with engaging illustrations to teach even the youngest children important morals and values. Big Thoughts for Little People has sold almost 600,000 units since it initially released.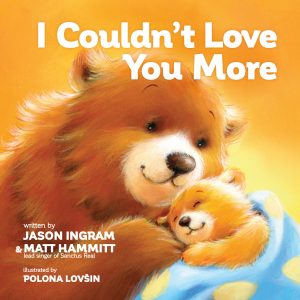 I Couldn't Love You More features beautiful illustrations of adorable animals paired with song lyrics to express the sweet, loving, yet powerful message from a parent to their child: I couldn't love you more, but there is Someone who does. Hammitt was the lead singer for Sanctus Real, a Grammy-nominated Christian rock band, for 20 years. First released in 2012, I Couldn't Love You More was inspired by Matt and Sarah Hammitt's son Bowen, who was born with Hypoplastic Left Heart Syndrome (HLHS), a rare congenital defect. A portion of the proceeds from the book goes to the foundation the Hammitts started to help parents with children who have this heart condition. Bowen continues to beat the odds as he recently celebrated his tenth birthday.
Since its founding in 1962, Tyndale House Publishers has been a voice to trust for generations of readers. Today, Tyndale is one of the largest independent Christian publishers in the world. Tyndale's mission is to make the Bible accessible to as many people as possible in language that they can relate and respond to. Tyndale publishes the Holy Bible, New Living Translation (NLT) and offers nonfiction books that equip readers with Christ-centered insight, counsel, and life-improving stories. In addition, Tyndale publishes fiction from fresh new voices and celebrated authors alike, capturing the imagination of millions of readers. With a deep understanding of the importance of nurturing future generations, Tyndale also publishes children's products that make God's Word and wisdom come alive. Tyndale's independent status allows it to follow its founding model, giving a majority of annual revenue—more than $110 million throughout its history—to charitable missions. With every book purchased, Tyndale readers help meet the physical and spiritual needs of people around the world.
Contact: Kristen Schumacher, kristenschumacher@tyndale.com 630.784.5103