Tyndale House Publishers to release The Swindoll Study Bible NLT in early October 2017
One of America's best-loved and most respected pastors, Chuck Swindoll, partners with Tyndale to publish an insightful and immensely practical study Bible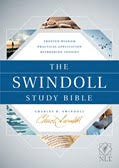 Carol Stream, Ill. (September 6, 2017)—Tyndale House Publishers (@tyndalehouse) has announced that it will release The Swindoll Study Bible NLT (swindollstudybible.com) ($39.99, ISBN: 978141487253) in October 2017. The fruit of pastor, teacher, and author Chuck Swindoll's more than 50 years in ministry, The Swindoll Study Bible offers the best of Swindoll's biblical wisdom, wit, charm, and practical insight that gets straight to the heart of the Bible's transformational message for the world today.
"This study Bible was designed with you, the reader, in mind," said Swindoll. "As you read the Scriptures, imagine me sitting beside you and sharing personal stories, important insights, and hard-earned lessons that will encourage you to walk more closely with Jesus Christ."
A lifelong desire to help people understand and apply God's Word to their daily lives is the driving force behind The Swindoll Study Bible. Readers will find it the perfect complement to other study resources from Swindoll and other trusted authors.
Said Kevin O'Brien, Tyndale House Study Bible and Reference Brand Manager, "Based on recent conversations with Chuck, I think there are two words that really capture this Bible: relevance and practicality. That doesn't mean that it doesn't have scholarship or depth behind it! We often hear people say, 'Well, this one is good for personal devotions and that one is good for serious study.' My response is simple—if your devotions aren't serious and your study isn't personal, you're doing it wrong. The Swindoll Study Biblereally does help you do both."
The Swindoll Study Bible features include:
The clear, accurate New Living Translation: Chuck says, "When I am in the pulpit, the Bible I use is the New Living Translation. It is really a scholarly work, but it is readable."
Living Insights include more than 1,600 study notes developed straight out of Chuck's personal sermon notes.
Application Articles adapted from Chuck's sermons include compelling stories, illustrations, and specific application points.
Holy Land Tour stops take readers on detailed excursions to significant biblical locations. It's almost like touring the Holy Land with Chuck and his ministry team.
People Profiles explore illuminating lessons from figures in the biblical story that hit home with modern readers.
Prayer Moments feature heartfelt prayers from Chuck, asking God to help us live out the truths of His Word.
Book Introductions provide enlightening answers for five key questions that orient readers to essential details and themes for each book of the Bible.
Searching the Scriptures summarizes Chuck's personal approach to Bible study and message preparation. Adapted from Chuck's book of the same name, this article includes exercises to teach readers to prepare and serve their own nourishing spiritual meals.
Bible-reading plans, indexes, dictionary/concordance, and color maps help readers stay in the Word and better understand its context.
Added Swindoll, "How can I apply [Scripture] today? is a question more than any other that has fed my passion to publish this Bible. My primary focus in ministry has been preaching and teaching biblical insight for living . . . for genuine life change. After all, that's why God communicated His Word to us—that we may become like his Son, Jesus Christ, the central figure of this Book."
Tyndale House Publishers will support an extensive marketing campaign for the launch of The Swindoll Study Bible.
Charles R. Swindoll has devoted his life to the clear, practical teaching and application of God's Word. Consistently ranked as one of America's best-loved and most respected pastors, he is highly influential, a 12-time Gold Medallion winner, and a best-selling author and contributor to more than 70 titles. His Insight for Living radio program airs on more than 2,100 outlets around the world and in multiple languages.
Tyndale House Publishers, founded in 1962, is the world's largest privately held Christian publisher of books, Bibles, and digital media. Tyndale has published many New York Times bestsellers. The largest portion of its profit goes to the nonprofit Tyndale House Foundation, which makes grants to help meet the physical and spiritual needs of people around the world. Tyndale was founded to publish Living Letters, which later comprised part of The Living Bible, a contemporary paraphrase of the Bible that became a global publishing phenomenon. Tyndale now publishes the Holy Bible, New Living Translation (NLT), the translation of choice for millions of people.