Tyndale House Publishers to release Spring devotional titles designed to cultivate spiritual disciplines
Carol Stream, Ill. (January 26, 2018) —This spring, Tyndale House Publishers is releasing nine new devotional products, providing practical tools to grow readers' faith daily. This varied collection features titles focused on the Lenten season, peace and presence, and the integral role of God's Word and earnest prayer in developing a deeper faith walk. By helping establish habits of worship, reflection, rest, and prayer, these titles encourage readers to invite the presence of God into their everyday lives. All titles are available through Tyndale.com.
The Promise of Lent Devotional:  A 40-Day Journey toward the Miracle of Easter

Chris Tiegreen | ISBN: 9781496419132 (hardcover) | January 15, 2018
40 devotions on God's sacrificial love and transformative power prepare readers' hearts for Easter and the resurrection of Jesus during the holy season of Lent.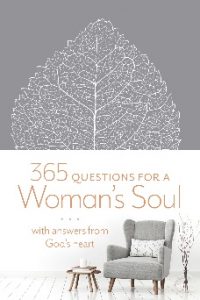 365 Questions for a Woman's Soul With Answers from God's Heart

Katherine J. Butler | ISBN: 9781496418081 (LeatherLike) | March 6, 2018

This book contains more than 500 promises directly from God's Word. Each verse is drawn from the easy-to-read-and-understand New Living Translation. Topics are arranged alphabetically to allow readers to find promises that address their needs. The topics chosen are most relevant to the issues, concerns, and desires women face today, reminding them that God's promises are not just for his people in general—they are meant to be taken personally. What do you long to hear God promise for your future?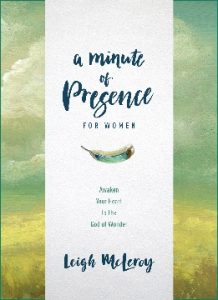 A Minute of Presence for Women: Awaken Your Heart to the God of Wonder

Leigh McLeroy | ISBN: 9781496422842 (hardcover) | March 6, 2018

God is present and ever revealing himself in the midst of ordinary human life. He is great; there is none greater. But he is not far away. In the midst of our everyday lives, God shows up, time after time. Not a day goes by that we can't catch a glimpse of him. In checkout lines and waiting rooms. In bells that chime and sirens that wail. In drive-throughs and drop-ins. In A Minute of Presence for Women, the wonder of God will be revealed in new and unexpected ways. This book will awaken your heart and senses to the wonder of his presence in your life today.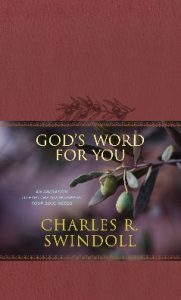 God's Word for You: An Invitation to Find the Nourishment Your Soul Needs

Charles R. Swindoll | ISBN: 9781496430229 (LeatherLike) | March 6, 2018

No one can deny the importance of bodily nutrition. We all know what it's like to eat an unbalanced diet, consume too many sweets, or skip a meal altogether. We feel sick or light-headed, or we become irritated, edgy, and even depressed. This is the body's way of letting us know that it's lacking sufficient nourishment. The same is true when it comes to spiritual matters. Without sufficient and regular nutrition, we become shallow and selfish, more demanding, and less gentle. We react impatiently, rashly, and angrily. These are telltale signs of inner malnutrition. God's Word for You is a reminder that God is here, for you, in the Bible. He wants to revive you, refresh you, and guide you. This book is for everyone whose soul is thirsty and who is yearning for more.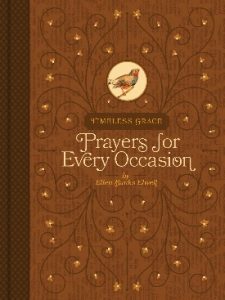 Prayers for Every Occasion (Timeless Grace)

Ellen Banks Elwell | ISBN: 9781496426550 (hardcover) | March 6, 2018

This handy collection of 176 heartfelt prayers will give voice to your thoughts, hopes, and life challenges. Prayers for family issues, friendship, celebrations, illness, loss, work, and much more will remind you that God listens, cares about your heart, and is ready to help as you look to him for inspiration and encouragement.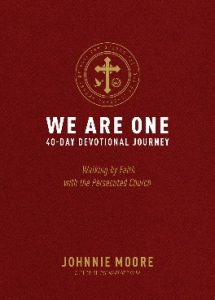 We Are One: Walking by Faith with the Persecuted Church

Johnnie Moore | ISBN: 9781496419507 (hardcover) | March 6, 2018

We are witnessing one of the most severe and unrelenting attempts at Christian persecution in church history. It's happening in our time and on our watch. This isn't a time for churches to dedicate one Sunday a year to praying for the persecuted church—every Christian church in every place ought to be praying without pause for our brothers and sisters in Christ who sit in the path of ISIS. It's not enough to offer vague prayers for Christians who face life-threatening situations in the Middle East and beyond. This type of crisis happens once in a millennium, and it demands that we pray as we never have before. We Are One guides the reader through 40 days of intercession for today's persecuted church, helping us to pray with information, purpose, and confidence.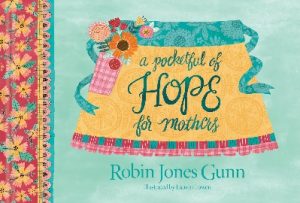 A Pocketful of Hope for Mothers

Robin Jones Gunn | ISBN: 9781496425560 (hardcover) | March 20, 2018

Moms love the sweetness in his little smile and the way she wiggles her tiny toes in delight. They love the beautiful chaos that their lives have become. And then come the challenges of motherhood. The exhaustion. The frustration. In A Pocketful of Hope for Mothers, Robin Jones Gunn reminds us that as mothers, the only thing we need to do each day is to live life with a selfless spirit, a tender heart, and all the gusto our giddy souls can muster. Despite how fragmented our lives might feel right now, all that matters is that we love well. God is near, giving us encouragement and hope as we care for the little souls that he has entrusted to us. This collection of heartwarming vignettes, inspiring quotes, and simple prayers makes a perfect gift for moms of young children or mothers-to-be.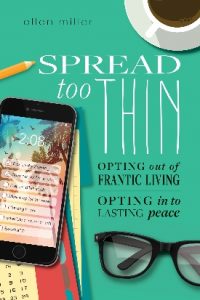 Spread Too Thin: Opting Out of Frantic Living. Opting In to Lasting Peace.

Ellen Miller | ISBN: 9781496419415 (softcover) | April 3, 2018

At every stage of life and within every demographic—single ladies to those who are married, working gals to stay-at-home moms, freshly minted college graduates to retirees—there is a resounding chant: "I'm overwhelmed. I'm exhausted. I'm spread too thin." From daybreak to sunset, many of us frantically cross items off a to-do list as long as our leg—only to fall into bed at the end of the day feeling unproductive, unfulfilled, and sometimes even inconsequential in the grand scheme of life. Jesus said, "I came that they might have life, and have it abundantly." He did not lay down his life that we might spend our waking moments stressed out and diluted. Jesus died for our sins that we might have an eternal life after our time on earth is done, but he also came that we might live a rich, meaningful, glorious life while we're here. Written specifically for women who care deeply, love unconditionally, extend themselves selflessly, and work tirelessly, Spread Too Thin will open an honest exchange about the things that have us wrung out, and will help us find the abundant life Jesus promises.
Tyndale House Publishers, founded in 1962, is the world's largest privately held Christian publisher of books, Bibles, and digital media. Tyndale has published many New York Times bestsellers. The largest portion of its profit goes to the nonprofit Tyndale House Foundation, which makes grants to help meet the physical and spiritual needs of people around the world. Tyndale was founded to publish Living Letters, which later comprised part of The Living Bible, a contemporary paraphrase of the Bible that became a global publishing phenomenon. Tyndale now publishes the Holy Bible, New Living Translation (NLT), the translation of choice for millions of people.