Tyndale House Publishers "Refresh" devotional app reaches over 500,000 installs
CAROL STREAM, Ill. (February 11, 2021)— Tyndale House Publishers has announced that their Refresh devotional app, created in partnership with Tecarta in 2020, has reached the major milestone of over 500,000 installations. The Refresh: Daily Bible Devotional App is the go-to source for accessing customized devotional reading and the Bible text anytime, anywhere.
People from all over the world are engaging with this unique and customizable app, which is available in both iOS and Google app stores. Users can customize their own personal reading plan on topics that are relevant to their life and suit their schedule. Women and men alike draw strength from the daily readings, spanning more than 700 topics, including anxiety, stress, relationships, parenting, love, peace, hope, and more.
The Refresh app reimagines inspirational devotions by providing access to more than 36,000 readings, easily sharable plans and availability on social media platforms and electronic links that take the reader directly from the devotional text to digital Bible text.
Refresh also allows users to customize the way they receive their daily devotions. Readers may simply receive a random devotion each day, or they can select a topic (e.g., anxiety) and decide how many days they want to receive a devotion on that theme.
The rich supply of inspirational devotions come from a wide range of writers, including bestselling authors such as Ann Voskamp, Nancy Guthrie, David Jeremiah, Tony Dungy, and Gary Chapman.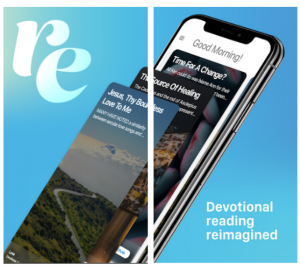 The Refresh app has garnered positive user reviews, earning 4.7 stars in the Google app store and 4.8 stars in the Apple store. App users have offered praise such as:
Awesome devotional app! Amazing that you get so much for free. You can set up plans by topic and customize the length. It catches you up automatically if you miss a day. I use it every day. ~Cynthia
Thank you soooo much for making this app! It's so great to have a free source of devotions! This makes it so much easier to have my quiet time in the morning. I grab my coffee and, well, first I open my Bible app and then I open this one! I LOVE how easy it is to choose a topic and make a 7-day plan! ~ Kate G
I don't even know where to begin. This app is saving my life. It's amazing—I love everything about it. ~ Butter_cup_2.0
It helps me mentally, emotionally, and spiritually. I greatly recommend this app. ~ Karen
As Refresh reaches this 500,000 installation milestone, Ron Beers, Sr. VP and Group Publisher at Tyndale House, shares, "We are thrilled to reach this milestone. When developing the Refresh app, our goal was to make it as easy as possible for users to customize their devotional reading and receive a new devotion every day on a topic they choose. It's great to see that people are downloading the app and growing in their spiritual life."
Refresh partner Ming Siu, cofounder and CEO of Tecarta, Inc., offers, "It's encouraging that so many people are downloading the app. We are constantly looking for new ways to use technology to make the app better and make our users' experience outstanding. It is our hope that by using the app people will grow in their biblical knowledge and grow closer to Christ."
Learn more about the app at www.refreshdevos.com.
Tecarta is a team of software, design and product people working in Palo Alto, California.  Its primary product is Tecarta Bible, one of the leading Bible apps for iOS and Android used by millions of people.  Tecarta's mission is to change the world by developing amazing apps that help people read, discover, study and share the Bible.
Since its founding in 1962, Tyndale House Publishers has been a voice to trust for generations of readers. Today, it is one of the largest independent Christian publishers in the world. Tyndale has proved a faithful guide—helping readers discover the life-giving truths of the Bible. Its mission is to open God's Word to as many as possible in language they can relate to and understand. Tyndale's independent and nonprofit status allows it to follow its founding model, giving a majority of net income to charitable missions—more than $110 million throughout its history. With every book purchased, Tyndale readers help meet the physical and spiritual needs of people around the world.
Contact: Katie Dodillet, Director of Public Relations, katiedodillet@tyndale.com