Tyndale House Publishers promotes Sarah Atkinson to Publisher
CAROL STREAM, Ill. (May 21, 2021)—Tyndale House Publishers is pleased to announce that Sarah Atkinson has been named to the role of publisher.
As publisher of Tyndale Momentum, Atkinson will be leading a team of nonfiction editors including acquisitions director Jon Farrar, senior developmental editor Carol Traver, and senior acquisitions editors Kara Leonino and Jillian Schlossberg. Jan Long Harris is continuing in her role as executive publisher of nonfiction, with primary responsibility for a new nonfiction imprint, Tyndale Refresh, and other new imprints in the works.
Sarah has more than 20 years of experience in the publishing industry. She joined Tyndale in 2006 with a MA in British and American Literature from Northern Illinois University and a background in academic publishing. During her tenure at Tyndale, she has worked with authors including Rachael Denhollander (What Is a Girl Worth?), Benjamin Watson (Under Our Skin), Kristen Welch (Raising Grateful Kids in an Entitled World), Nicole Unice (The Miracle Moment), Dimas Salaberrios (Street God), Jennifer Marshall Bleakley (Joey), Jennifer Dukes Lee (It's All Under Control), Nancy Guthrie (God Does His Best Work with Empty), Esther Ahmad (Defying Jihad), Rachel Anne Ridge (Flash), and Pam Tebow (Ripple Effects). Many titles acquired under her supervision have received industry recognition, including recent ECPA bestseller The Well-Watered Woman and Christian Book Award® finalist Try Softer.
Atkinson says, "It's been a privilege to serve as associate publisher under Jan Long Harris, one of the most respected and knowledgeable leaders in our industry and a trailblazer in every way. As I step into the publisher role for Tyndale Momentum, I do so with absolute confidence in my team of talented, literature-loving, Christ-centered colleagues who are dedicated to finding and growing the voices that will shape the future of the church and change readers' lives. We are crafting an amazing lineup for 2022-2023 that will include strategic new partnerships, debut authors, compelling true stories, and much more. We are primed and ready for great things, and I couldn't be more honored to take on this role or more excited about the future of Tyndale Momentum."
Executive Publisher Jan Long Harris shares, "I am very excited for Sarah's promotion to publisher of Tyndale Momentum because it is so well-deserved! Sarah has made significant contributions in her 14 years at Tyndale; acquiring excellent books, mentoring staff, improving processes and earning the respect of her colleagues. I look forward to watching Sarah lead the Momentum team to ever-growing success and impact."
Group publisher, Ron Beers adds, "Sarah is such a gift to Tyndale. As an acquisitions director, editor and manager, her skills are exceptional. And her commitment to Tyndale's mission is unwavering. I'm so excited to see Sarah move into this key leadership position with the Momentum publishing team. Jan has done a remarkable job of leading the Momentum team for so many years and has mentored Sarah well. The team will continue to be in good hands now for many years to come."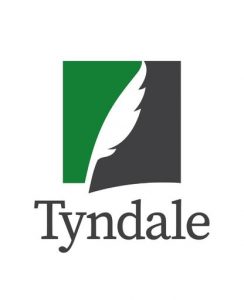 Since its founding in 1962, Tyndale House Publishers has been a voice to trust for generations of readers. Today, it is one of the largest independent Christian publishers in the world. Tyndale has proved a faithful guide—helping readers discover the life-giving truths of the Bible. Its mission is to open God's Word to as many as possible in language they can relate to and understand. Tyndale's independent and nonprofit status allows it to follow its founding model, giving a majority of net income to charitable missions—more than $110 million throughout its history. With every book purchased, Tyndale readers help meet the physical and spiritual needs of people around the world.
Contact:
Katie Dodillet, Director of Public Relations, katiedodillet@tyndale.com