Tyndale House Publishers' "New Believer's Bible" reaches 10 million sales plateau
ECPA Recognizes the New Believer's Bible with Prestigious Diamond Award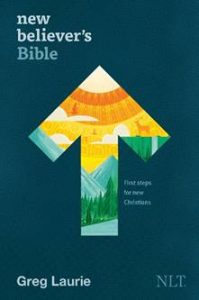 CAROL STREAM, ILL. (May 6, 2020) – Tyndale House Publishers (@tyndalehouse) has announced that its New Believer's Bible NLT has sold more than 10 million copies. By reaching that plateau, the Evangelical Christian Publishers Association (ECPA) has recognized the New Believer's Bible with its Diamond Award, which is presented to books that have sold more than 10 million copies. The ECPA has presented its Diamond Award to only eleven books in the history of the award: http://christianbookexpo.com/salesawards/. The most recent title that received such recognition was The Five Love Languages by Gary Chapman (Moody Publishers) in 2015.
"Almost twenty years ago, thanks to my friends at Tyndale, I had the honor of digging through God's Word and, by way of notes and sidebars, leading an upstart believer through the twists and turns and truth of this amazing book," said Greg Laurie, General Editor of the New Believer's Bible and senior pastor of Harvest Christian Fellowship in Riverside, California. "That edition of the New Believers Bible has sold more than 10 million copies worldwide."
First published in 1996, the New Believer's Bible NLT received its newest update in March 2020. Uniquely designed to help the new Christian read, study, and understand the Bible, it includes features that help Christians develop and deepen their faith while providing a foundation for their new life in Christ.
"Now there's a brand new revised and updated edition of the New Believer's Bible available," added Laurie. "And not only does it include my original notes, but I've added many new ones to help today's readers better understand the power of the incredible story of creation, the fall of mankind, and redemption through Jesus Christ found throughout its pages. I could not be more grateful for the chance to introduce this Bible to a new generation . . . of new believers."
This expanded edition has been newly typeset and includes the original New Believer's Bible's notes and features plus expanded treatment of the existing topics alongside some new ones from Start! The Bible for New Believers. All content has been refreshed for today's language and needs.
The New Believer's Bible contains a number of special features to give you the biblical knowledge you need to grow as a Christian:
Cornerstones cover the basics of Christian belief. Here you will learn about the Trinity, angels, Satan, Heaven, hell, forgiveness, peace, joy, love, and other essential teachings of the Bible.
First Steps help you know God and his plan for you. Discover how to know you are saved, find the right church, study the Bible, resist temptation, talk with God, and much more.
Off & Running shows you how you can enjoy God's blessings and direction in all areas of your life: career, marriage, family, finances, and relationships.
Big Questions tackle those difficult issues you may be dealing with right now as a new believer.
How You Can Know God: Discover how to be saved and how to be assured of your salvation.
Glossary of Christian Terms: An explanation of key biblical and doctrinal terms in language you can easily understand.
Special Charts: A resource that highlights key biblical information.
Fifty-Two Great Bible Stories: A brief summary, Scripture reference, and page number for some of the best-loved stories from God's Word.
Prophecies about Jesus: A list of Old Testament prophecies about Jesus and how they were fulfilled in the New Testament.
Memory Verses: Effective steps for memorizing God's Word; highlights over 130 of the most important verses to commit to memory.
How to Study the Bible: An easy-to-follow strategy for getting the most out of your Bible reading. It also includes two simple reading plans.
Overview of the Bible: A concise overview of each book of the Bible, including author, date, style, and summary of the contents.
In addition, Tyndale is offering a YouVersion reading plan called New Believers: 7 Steps for New Christians that provides an excerpt and seven steps for new Christians that is available at: https://www.bible.com/reading-plans/19459/
Additional information about the New Believer's Bible is available at www.Tyndale.com/sites/newbelieversbible.
The Evangelical Christian Publishers Association (ECPA) is an international non-profit trade organization comprised of member companies that are involved in the publishing and distribution of Christian content worldwide. Since 1974, ECPA has strengthened Christian publishing by building networking, information, and advocacy opportunities within the industry and throughout multiple channels so that our members can more effectively produce and deliver transformational Christian content.
Since its founding in 1962, Tyndale House Publishers has been a voice to trust for generations of readers. Today, Tyndale is one of the largest independent Christian publishers in the world. Tyndale's mission is to make the Bible accessible to as many people as possible in language that they can relate and respond to. Tyndale publishes the Holy Bible, New Living Translation (NLT) and offers nonfiction books that equip readers with Christ-centered insight, counsel, and life-improving stories. In addition, Tyndale publishes fiction from fresh new voices and celebrated authors alike, capturing the imagination of millions of readers. With a deep understanding of the importance of nurturing future generations, Tyndale also publishes children's products that make God's Word and wisdom come alive. Tyndale's independent status allows it to follow its founding model, giving a majority of annual revenue—more than $100 million throughout its history—to charitable missions. With every book purchased, Tyndale readers help meet the physical and spiritual needs of people around the world.