Tyndale House Publishers and Church Answers announce new partnership
Committed to serving the church more effectively by combining their unique strengths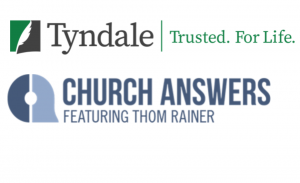 CAROL STREAM, Ill. (August 3, 2020)—Tyndale House Publishers (@tyndalehouse) and Church Answers announced today the formation of a new ministry partnership dedicated to equipping local churches to grow and thrive in their God-given mission. Providing thoughtful, practical, and innovative resources, this partnership includes a multi-book, multi-year agreement with bestselling author and church strategist Thom Rainer, publishing books that cover topics vital to a church's life and health in the coming decades. Each core book will have an accompanying video curriculum, participant's guide, and other ancillary books to empower church leaders and inspire church members.
Tyndale senior VP and publisher Ron Beers says, "Tyndale is ecstatic about our long-term partnership with Thom Rainer and Church Answers. Thom is a gifted leader, teacher, and communicator whose personal mission aligns perfectly with Tyndale's. He is so successful and respected among tens of thousands of churches, not only because he is a thoughtful and talented writer, but also because he knows perhaps better than anyone the needs and the heartbeat of church leaders and congregants alike. Working together, we will create tools that will serve the church in unique and powerful ways, so we can all participate more fully in the growth of God's Kingdom, for his glory."
In addition to the multi-book agreement, the partnership will feature a new line of Church Answers Resource products edited by Thom Rainer and copublished by Tyndale and Church Answers. These books will focus on key practical issues for the local church and will include leading authors in the genre.
Tyndale and Church Answers will also jointly promote the ministry site ChurchAnswers.com. This platform is one of the largest sites in the world focusing on local church ministry.
Recognizing that the local church is God's plan for individual and societal transformation, Tyndale and Church Answers will work synergistically to help the local church fulfill its unique calling. New cutting-edge initiatives are currently in development to supply church leaders with the most up-to-date tools and information to help local congregations flourish in the twenty-first century.
Thom Rainer, founder and CEO of Church Answers commented, "I am grateful for the confidence Tyndale has placed in me to write books for local churches for the next several years. The alignment is perfect for Church Answers. Tyndale is one of the leading Christian content providers in the world. I am enthusiastic about our two organizations working together for local churches for the glory of God."
Founded in Franklin, Tennessee, Church Answers began in 2019 as the continuation of the platform of Thom Rainer. Today, the organization reaches two out of three churches in North America and a growing number of churches globally.
Since its founding in 1962, Tyndale House Publishers has been a voice to trust for generations of readers. Today, Tyndale is one of the largest independent Christian publishers in the world. Tyndale's mission is to make the Bible accessible to as many people as possible in language that they can relate and respond to. Tyndale publishes the Holy Bible, New Living Translation (NLT) and offers nonfiction books that equip readers with Christ-centered insight, counsel, and life-improving stories. In addition, Tyndale publishes fiction from fresh new voices and celebrated authors alike, capturing the imagination of millions of readers. With a deep understanding of the importance of nurturing future generations, Tyndale also publishes children's products that make God's Word and wisdom come alive. Tyndale's independent status allows it to follow its founding model, giving a majority of annual revenue—more than $100 million throughout its history—to charitable missions. With every book purchased, Tyndale readers help meet the physical and spiritual needs of people around the world.