Tyndale House & DaySpring team up to deliver timely message of hope & encouragement through Bible collaboration
NLT DaySpring Hope & Encouragement Bible to Release in October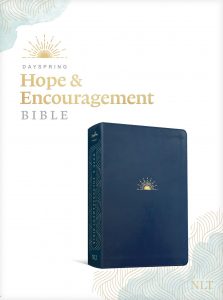 Carol Stream, Ill., Aug. 23, 2021—In the midst of national concern over the economy, the ongoing pandemic, and mental health issues, Tyndale House Publishers and DaySpring have teamed up for the October release of the NLT DaySpring Hope & Encouragement Bible, a Bible designed to provide hope and encouragement during any season of life, but particularly during the trying times many are currently experiencing.
The NLT DaySpring Hope & Encouragement Bible includes a reading plan that amplifies 12 Indisputable Truths about who each of us is in Christ, including: you are known, you are not alone, you have a purpose, and you have a reason for hope. These truths equip readers to recognize and embrace their treasured place in God's heart in order to face any challenge and step into even the toughest calling.
"It's a privilege to collaborate with DaySpring on the NLT DaySpring Hope & Encouragement Bible," said Jim Jewell, senior director of marketing and communication for Tyndale House. "Our shared vision to bring the Word of God to people in need of renewed hope and fresh encouragement seems particularly relevant during this time in history."
"This year, DaySpring celebrates its 50th anniversary, and we've included our most encouraging and hopeful messages from the past five decades in the new NLT DaySpring Hope & Encouragement Bible," said Joy Groblebe, content marketing director for DaySpring. "We've included content that has resonated most with our audience through the years as a companion to their Scripture reading."
Distinctives of the NLT DaySpring Hope & Encouragement Bible include:
Full text of the trusted New Living Translation
52 full-page devotionals from bestselling DaySpring books
250+ reflective DaySpring inspirations
12 Indisputable Truths reading plans
Full-color interior, including 16-page Visual Overview of the Bible
Tyndale Verse Finder
Wide margins for journaling and note-taking
NLT DaySpring Hope & Encouragement Bible
(Tyndale House Publishers, ISBN: 978-1-4964-5292-4).
Hardcover: $37.49. LeatherLike cover: $44.99.
About Tyndale House Publishers
Since its founding in 1962, Tyndale House Publishers has been a voice to trust for generations of readers. Today, Tyndale is one of the largest independent Christian publishers in the world. Tyndale's mission is to make the Bible accessible to as many people as possible in language that they can relate and respond to. Tyndale publishes the Holy Bible, New Living Translation (NLT) and offers nonfiction books that equip readers with Christ-centered insight, counsel, and life-improving stories. In addition, Tyndale publishes fiction from fresh new voices and celebrated authors alike, capturing the imagination of millions of readers. With a deep understanding of the importance of nurturing future generations, Tyndale also publishes children's products that make God's Word and wisdom come alive. Tyndale's independent status allows it to follow its founding model, giving a majority of annual revenue—more than $110 million throughout its history—to charitable missions. With every book purchased, Tyndale readers help meet the physical and spiritual needs of people around the world.
About DaySpring
DaySpring, the world's largest Christian-message product provider, was founded in 1971 with a single Christmas card. Today DaySpring offers more than 6,000 products—from greeting cards to home décor, specialty gifts to devotional books. In 1999, DaySpring was acquired by Hallmark Cards, Inc. DaySpring products are in Christian retail outlets, mass retail stores, card and gift shops and other outlets in the United States and 60 foreign countries. DaySpring is based in Siloam Springs, Ark., and employs a staff of more than 80 people. Visit www.dayspring.com for more information about the company, to find a local retailer, and to send a free e-card.
DaySpring is a registered trademark of DaySpring Cards, Inc.
MEDIA NOTE: For more information, or to arrange an interview about the NLT DaySpring Hope & Encouragement Bible, contact Laura McGowan at laura@lauramcgowan.com or call (847) 347-5206.
FOR INFORMATION, CONTACT:  Laura McGowan (847) 347-5206, laura@lauramcgowan.com