Tyndale Fiction to publish the Real Book Spy, Ryan Steck
Fields of Fire Releasing in August 2022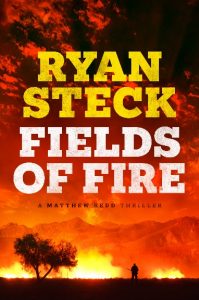 Carol Stream, Ill. (February 4, 2022) — Tyndale House Publishers (@tyndalehouse) has acquired Ryan Steck, "the go-to source for all things thriller." Steck is best known for launching TheRealBookSpy.com, which has garnered over 8 million page views in the past five years, generating buzz for bestselling authors and introducing new fans to the thriller genre. In addition, Steck has been named an "Online Influencer" by Amazon and is a regular columnist at CrimeReads. Tyndale's acquisition of Ryan Steck includes two books introducing readers to elite Marine Raider Matthew Redd. Steck's debut thriller, Fields of Fire, releases in August 2022.
Regarding this acquisition, fiction publisher Karen Watson said, "We first met Ryan through his support of our novels as the Real Book Spy. When I heard about Ryan's own novel in development, it was a more than intriguing possibility. Learning that Ryan understands and shares Tyndale's philosophy and vision for offering male-friendly thrillers that point to a journey of faith was even better news. We look forward to Ryan's fans getting a chance to take the debut trip with Matthew Redd."
In Fields of Fire, elite Marine Raider Matthew Redd stops to help a stranger while awaiting deployment on a critical mission. Upon waking up hours later, Matthew learns his team was wiped out in an ambush. Unable to remember anything, he can't deny the possibility that he's somehow responsible for the information leak that led to the massacre. He's given a deal to avoid a charge of treason, but it means walking away from the corps and the life he loved.
As he faces his loss, Matt gets a cryptic message from his adoptive father, J. B.: "Trouble's come knocking . . . Might need your help." He points his truck home to rural Montana, only to discover that J. B. is dead and the explanation for his death is far from satisfying. Determined to dig up the truth, Redd uncovers a dark global conspiracy with his hometown at the center and no team at his back—except one he might find among past friends, old enemies, and new allies, if he can figure out who to trust.
Early endorsers of Fields of Fire include Brad Taylor, Kyle Mills, Jack Carr, Brad Meltzer, and #1 New York Times bestselling author of Shadows Reel, C. J. Box, who said, "Ryan Steck's Fields of Fire busts out of the chute with nonstop action and it never lets up until the final page. A magnificent debut with a terrific sense of place in Big Sky Country and a hero to root for in Matthew Redd."
Ryan Steck is an editor, an author, and the founder and editor in chief of The Real Book Spy. TheRealBookSpy.com has been endorsed by #1 New York Times bestsellers Mark Greaney, C. J. Box, Kyle Mills, Daniel Silva, Brad Thor, and many others. A resident of Michigan, along with his wife and their six kids, Steck cheers on his beloved Detroit Tigers and Lions during the rare moments when he's not reading or talking about books on social media.
Ryan is represented by John Talbot at The Talbot Fortune Agency.
Since its founding in 1962, Tyndale House Publishers has been a voice to trust for generations of readers. Today, Tyndale is one of the largest independent Christian publishers in the world. Tyndale's mission is to make the Bible accessible to as many people as possible in language that they can relate and respond to. Tyndale publishes the Holy Bible, New Living Translation (NLT) and offers nonfiction books that equip readers with Christ-centered insight, counsel, and life-improving stories. In addition, Tyndale publishes fiction from fresh new voices and celebrated authors alike, capturing the imagination of millions of readers. With a deep understanding of the importance of nurturing future generations, Tyndale also publishes children's products that make God's Word and wisdom come alive. Tyndale's independent status allows it to follow its founding model, giving a majority of annual revenue—more than $100 million throughout its history—to charitable missions. With every book purchased, Tyndale readers help meet the physical and spiritual needs of people around the world.
Contact: For more information or an advance reader copy of Fields of Fire, contact Amanda Woods, amandawoods@tyndale.com, 630-784-5125.