Tyndale Fiction to publish New York Times bestselling author
Cindy Woodsmall
Yesterday's Gone Releasing in September 2022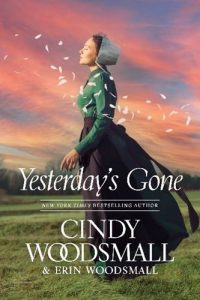 Carol Stream, Ill. (March 11, 2022) — Tyndale House Publishers (@tyndalehouse) has acquired New York Times and CBA bestselling author Cindy Woodsmall. Listed by the Wall Street Journal as one of the top three Amish fiction authors, Cindy Woodsmall has written twenty-five works of fiction and coauthored the nonfiction book Plain Wisdom: An Invitation into an Amish Home and the Hearts of Two Women.
Along with being featured on ABC's Nightline and the front page of the Wall Street Journal, she has received several awards and honors, including Fiction Book of the Year, Reviewer's Choice Awards, Christy Award, Inspirational Reader's Choice Contest, as well as one of Crossings' Best Books of the Year. She's also been a finalist for the prestigious RITA and Carol Awards, Christian Book of the Year, and Christian Retailing Magazine's Retailers Choice Awards.
Tyndale's acquisition of Cindy Woodsmall and Erin Woodsmall includes three books and one novella. Yesterday's Gone, Cindy Woodsmall's first book with Tyndale, releases in September 2022 and is cowritten by Cindy's daughter-in-law Erin Woodsmall. Erin has edited, brainstormed, and researched books with Cindy for almost a decade. More recently she and Cindy have coauthored five books, one of which was a winner of the prestigious Christy Award.
Regarding this acquisition, Jan Stob, associate publisher of Tyndale fiction, offered, "We are thrilled to be partnering with Cindy and Erin Woodsmall to bring a fresh new angle to the market in this popular category. I have long admired Cindy's compelling stories that made her a top voice in Christian fiction. We believe Cindy's partnership with Erin will attract new readers to the genre with a unique concept while continuing to reflect the values and appeal that made these stories so popular."
In Yesterday's Gone, Eliza Bontrager and Jesse Ebersol have fallen in love and are determined to marry, despite the belief of their Amish community and respective families that there's a hidden curse—one that only shows up when an Ebersol and Bontrager marry.
Before the ceremony on the day of the wedding, Eliza's great-aunt Rose gives her a family heirloom quilt and tells her that she may use it to change one event in the past. Eliza appreciates the woman's heart, but she dismisses the strange conversation while keeping the beautiful quilt.
Several years later, mourning the loss of their third child, Eliza discovers that her inability to deliver a healthy baby is genetic. Remembering her great-aunt's strange words, she decides that if she can go back in time and reject Jesse's proposal, she can save him the heartache of a childless marriage. Her sacrifice will allow him to marry someone else and raise a family. But once she puts her plan into action, she discovers the true impact of her decision—on Jesse and so many others within their community.
The author is represented by Ambassador Literary Agency.
Since its founding in 1962, Tyndale House Publishers has been a voice to trust for generations of readers. Today, Tyndale is one of the largest independent Christian publishers in the world. Tyndale's mission is to make the Bible accessible to as many people as possible in language that they can relate and respond to. Tyndale publishes the Holy Bible, New Living Translation (NLT), and offers nonfiction books that equip readers with Christ-centered insight, counsel, and life-improving stories. In addition, Tyndale publishes fiction from fresh new voices and celebrated authors alike, capturing the imagination of millions of readers. With a deep understanding of the importance of nurturing future generations, Tyndale also publishes children's products that make God's Word and wisdom come alive. Tyndale's independent status allows it to follow its founding model, giving a majority of annual revenue—more than $100 million throughout its history—to charitable missions. With every book purchased, Tyndale readers help meet the physical and spiritual needs of people around the world.
Contact: For more information or an advance reader copy of Yesterday's Gone, contact Amanda Woods at amandawoods@tyndale.com or 630-784-5125.