Tyndale Fiction to publish Lynn Austin, bestselling Christy Award–winning author
If I Were You Releasing in June 2020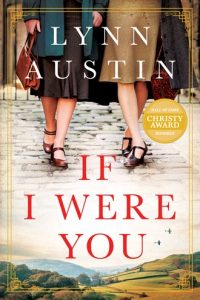 Carol Stream, Ill. (January 16, 2020) — Tyndale House Publishers (@tyndalehouse) announced today that they have acquired beloved and award-winning fiction author Lynn Austin. Austin is an eight-time Christy Award winner and was inducted into the Christy Award Hall of Fame in 2013. Tyndale's acquisition of Lynn Austin includes four books of historical fiction, the first two of which are set during World War II, plus the rights to republish Lynn's very first novel, Fly Away, which has been updated with a new cover and is currently available as an e-book. Tyndale will release one book per year starting with If I Were You in June 2020.
Regarding this acquisition, fiction publisher Karen Watson said, "With Tyndale's industry reputation for culturally significant and impactful fiction, having Lynn Austin join our author family is a logical and wonderful addition. Lynn's personal mission and ability to weave good literature with winsomely conveyed biblical truth embodies the best qualities of a Tyndale author. We are looking forward to a long, happy publishing partnership."
Additionally, senior acquisitions editor Stephanie Broene commented, "I have long admired Lynn Austin's writing, and it has been such an honor to welcome her to the Tyndale family. The depth and consistency of Lynn's backlist stand as testament to her capabilities as a writer. But what has struck me most as I have gotten to know Lynn and attended her speaking and reader events is how deeply her characters and stories have resonated and stayed with audiences over time. Her books speak at the heart level in an entertaining way. That is one of our highest hopes for all our novels, and we are thrilled to be partnering with Lynn to bring her stories to the marketplace."
Austin's first Tyndale Fiction title, If I Were You, is a story of sisterhood and self-discovery set in London against the backdrop of WWII. Lynn got the idea for the book when she heard the story of a British war bride who had met and married an American soldier near the end of the war. The bride finally arrived in America only to learn that her husband had died in a tragic accident during the course of her trip. That piqued Lynn's imagination. Did the bride stay with in-laws she had never met, or go back to London, which had been decimated by the Blitz?
Because Lynn's novels are usually about women, family, and relationships, as she wrote, the idea grew and became a story about two women—childhood friends from very different classes. These friends drift apart as they grow into young women but are drawn back together by the dawn of WWII. The kernel of that original idea is still a big part of the story, with a twist: What if the bride who shows up in America isn't who she says she is? And later, when the real war bride does come, what happens when she finds her friend has been impersonating her for several years?
Regarding this upcoming release, Watson shared, "Lynn Austin's If I Were You knocked me back in my seat from the opening page. Lynn delivers the authentic emotions and characters that fans have loved in series like Downton Abbey and The Crown. Real people facing the challenges of a changing world is at the heart of great fiction. This story delivers!"
Lynn Austin has sold more than one and a half million copies of her books worldwide and one of her novels, Hidden Places, was made into a Hallmark Channel Original Movie. A former teacher who now writes and speaks full-time, Lynn and her husband have three grown children and make their home in western Michigan. Visit her online at www.lynnaustin.org.  Lynn is represented by agent Natasha Kern.
Since its founding in 1962, Tyndale House Publishers has been a voice to trust for generations of readers. Today, Tyndale is one of the largest independent Christian publishers in the world. Tyndale's mission is to make the Bible accessible to as many people as possible in language that they can relate and respond to. Tyndale publishes the Holy Bible, New Living Translation (NLT) and offers nonfiction books that equip readers with Christ-centered insight, counsel, and life-improving stories. In addition, Tyndale publishes fiction from fresh new voices and celebrated authors alike, capturing the imagination of millions of readers. With a deep understanding of the importance of nurturing future generations, Tyndale also publishes children's products that make God's Word and wisdom come alive. Tyndale's independent status allows it to follow its founding model, giving a majority of annual revenue—more than $100 million throughout its history—to charitable missions. With every book purchased, Tyndale readers help meet the physical and spiritual needs of people around the world.
Contact: For more information or an advance reader copy of If I Were You, contact Katie Dodillet at katiedodillet@tyndale.com or 630-784-5275.