Tyndale author Laura Gallier wins 2018 Christy
Award™ for Young Adult novel "The Delusion"
CAROL STREAM, Ill.— November 8, 2018— Tyndale House Publishers is pleased to announce that Laura Gallier won the 2018 Christy Award™ (www.ChristyAwards.com) in the Young Adult category. Her novel, The Delusion, published under Tyndale's new YA imprint, Wander, is a heart-pounding journey through the truth and delusion of spiritual warfare.
On November 7, 2018, the Evangelical Christian Publishers Association (ECPA) hosted the 19th annual Christy Award™ Gala at Lipscomb University's Shamblin Theatre in Nashville, Tenn. The ceremony was hosted by bestselling Christian authors Francine Rivers, Charles Martin, Carla Laureano, and Cynthia Ruchti.
The Christy Award™ celebrates excellence in the art of Christian fiction and honors the power of faith in story.
Linda Howard, associate publisher of Tyndale children and youth titles, shared, "We are thrilled and honored to have our first book under our new YA imprint, Wander, receive a prestigious Christy Award. It was our pleasure and privilege to attend the gala in Nashville in support of both the Christys and our author."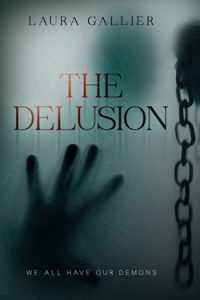 For more information on Tyndale titles, please visit www.tyndale.com.
The Christy Award™ is the foremost award honoring and promoting excellence in Christian fiction since 1999 and is named for Catherine Marshall's novel, Christy, which has sold over 10 million copies since its publication in 1967. ECPA assumed ownership and administration of the award in 2017 to focus and grow the unique opportunity of fiction in Christian publishing. ChristyAwards.com 
The Evangelical Christian Publishers Association (ECPA) is an international nonprofit trade organization comprised of member companies that are involved in the publishing and distribution of Christian content worldwide. Since 1974, ECPA has strengthened Christian publishing by building networking, information, and advocacy opportunities within the industry and throughout multiple channels so that our members can more effectively produce and deliver transformational Christian content. ECPA.org 
Tyndale House Publishers, founded in 1962, is the world's largest privately held Christian publisher of books, Bibles, and digital media. Tyndale has published many New York Times bestsellers. The largest portion of its profit goes to the nonprofit Tyndale House Foundation, which makes grants to help meet the physical and spiritual needs of people around the world. Tyndale was founded to publish Living Letters, which later comprised part of The Living Bible, a contemporary paraphrase of the Bible that became a global publishing phenomenon. Tyndale now publishes the Holy Bible, New Living Translation (NLT), the translation of choice for millions of people.