Two Tyndale House titles earn 2020 Christian Book Awards® from ECPA
The NLT Life Application Study Bible, Third Edition, and Kirby McCook and the Jesus Chronicles Earn Prestigious Recognition


CAROL STREAM, ILL. (May 6, 2020) – The Evangelical Christian Publishers Association (ECPA) has announced the 14 winners of the 2020 Christian Book Awards® in 12 categories—which included a tie in the Bibles category and a double win in the New Author and Christian Book of the Year categories. Tyndale House Publishers was recognized with winners in two categories: The NLT Life Application Study Bible, Third Edition, which was a co-winner in the Bibles category, as well as Kirby McCook and the Jesus Chronicles, which captured a win in Young People's Literature.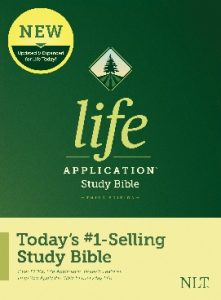 Trusted and treasured by millions of readers for more than 30 years, the Life Application Study Bible is the top-selling study Bible available today. The NLT Life Application Study Bible, Third Edition has been thoroughly updated and expanded, offering even more relevant insights for understanding and applying God's Word to everyday life in today's world.
"When a Bible receives such an honor you can only be grateful to see God's Word lifted up," said Jim Jewell, Brand Director, Life Application Study Bible. "To have the Third Edition of the NLT Life Application Study Bible so appreciated brings into view the multitude of people who have labored on this Bible through the decades–from the four young Youth for Christ leaders writing study notes on 3 X 5 cards in the 1980s, to the multi-generational team that has once again crafted the notes and articles so they'll be sharp and helpful to this and future generations."
Kirby McCook and the Jesus Chronicles, written by Stephen Arterburn and M.N. Brotherton and released in September 2019, is described as "Captain Underpants meets the Bible" (but in a reverent manner). Twelve-year-old Kirby McCook, mentored by his grandfather, leads his rambunctious friends through the Bible in this creative and fun Bible storybook. Bible stories laced with middle-grade humor help teach kids that Jesus has been part of the story from the beginning and can be found throughout the Bible, from Genesis through Revelation.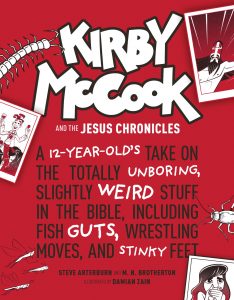 "We are honored to receive this award and thrilled for Steve and Marcus," added Linda Howard, Associate Publisher. "We pray that Kirby's humor and fresh approach to scripture will help young readers to establish a love of God's word and a deep faith in Jesus."
The full list of winners is available at https://christianbookawards.com/winners.html. Tyndale's finalists are available at https://mediacenter.tyndale.com/news/eight-tyndale-house-titles-named-finalists-for-2020-christian-book-awards.
For additional information about all Tyndale books and Bibles, visit www.tyndale.com.
The Evangelical Christian Publishers Association (ECPA) is an international non-profit trade organization comprised of member companies that are involved in the publishing and distribution of Christian content worldwide. Since 1974, ECPA has strengthened Christian publishing by building networking, information, and advocacy opportunities within the industry and throughout multiple channels so that our members can more effectively produce and deliver transformational Christian content.

Since its founding in 1962, Tyndale House Publishers has been a voice to trust for generations of readers. Today, Tyndale is one of the largest independent Christian publishers in the world. Tyndale's mission is to make the Bible accessible to as many people as possible in language that they can relate and respond to. Tyndale publishes the Holy Bible, New Living Translation (NLT) and offers nonfiction books that equip readers with Christ-centered insight, counsel, and life-improving stories. In addition, Tyndale publishes fiction from fresh new voices and celebrated authors alike, capturing the imagination of millions of readers. With a deep understanding of the importance of nurturing future generations, Tyndale also publishes children's products that make God's Word and wisdom come alive. Tyndale's independent status allows it to follow its founding model, giving a majority of annual revenue—more than $100 million throughout its history—to charitable missions. With every book purchased, Tyndale readers help meet the physical and spiritual needs of people around the world.