Two Tyndale House novels win 2020 Christy Awards
CAROL STREAM, Ill.—November 13, 2020—Tyndale House Publishers is pleased to announce that two Tyndale fiction titles and authors have won 2020 Christy Awards (ChristyAwards.com). The Christy Award celebrates excellence in the art of Christian fiction and honors the power of faith in story.
On November 12, 2020, the Evangelical Christian Publishers Association (ECPA) announced the winners of the 2020 Christy Award in an online gala, hosted by award-winning novelist Chris Fabry.
Tyndale House Publishers' authors and titles were awarded as follows:
First Novel:  A Long Time Comin', Robin W. Pearson
Historical:  The Medallion, Cathy Gohlke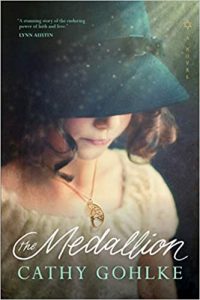 Jan Stob, senior director of Tyndale fiction, shared, "We are thrilled that Cathy Gohlke and Robin W. Pearson have been recognized with a Christy Award in their respective categories. We are honored to publish these talented women, who are skilled at telling poignant stories that reflect God's light and love."
For more information on Tyndale fiction titles, please visit tyndalefiction.com.
The Christy Award® is the foremost award honoring and promoting excellence in Christian fiction since 1999, and is named for Catherine Marshall's novel Christy, which has sold over 10 million copies since its publication in 1967. ECPA assumed ownership and administration of the award in 2017 to focus and grow the unique opportunity of fiction in Christian publishing. ChristyAwards.com
The Evangelical Christian Publishers Association (ECPA) is an international nonprofit trade organization comprised of member companies that are involved in the publishing and distribution of Christian content worldwide. Since 1974, ECPA has strengthened Christian publishing by building networking, information, and advocacy opportunities within the industry and throughout multiple channels so that our members can more effectively produce and deliver transformational Christian content. ECPA.org
Since its founding in 1962, Tyndale House Publishers has been a voice to trust for generations of readers. Today, Tyndale is one of the largest independent Christian publishers in the world. Tyndale's mission is to make the Bible accessible to as many people as possible in language that they can relate and respond to. Tyndale publishes the Holy Bible, New Living Translation (NLT), and offers nonfiction books that equip readers with Christ-centered insight, counsel, and life-improving stories. In addition, Tyndale publishes fiction from fresh new voices and celebrated authors alike, capturing the imagination of millions of readers. With a deep understanding of the importance of nurturing future generations, Tyndale also publishes children's products that make God's Word and wisdom come alive. Tyndale's independent status allows it to follow its founding model, giving a majority of annual revenue—more than $110 million throughout its history—to charitable missions. With every book purchased, Tyndale readers help meet the physical and spiritual needs of people around the world.