Two Baker Publishing Group Titles
Win Top Shelf Book Cover Awards
Contact: Lynnae Lubbers
(616)676-9185 x193
llubbers@bakerpublishinggroup. com 
Ada, Mich. (October 26, 2015)—The Evangelical Christian Publishers Association (ECPA) selected two Baker Publishing Group titles as winners of the 2015 Top Shelf Book Cover Awards—Simply Tuesday by Emily Freeman and The Hiding Place Young Reader's Edition by Corrie ten Boom, with Elizabeth and John Sherrill. The Top Shelf Book Cover Awards were given out by ECPA at the opening session of Publishing University at Wheaton College on October 19. These awards recognize excellent book design in Christian publishing. For a complete list of this year's winners, please visit http://topshelfawards.org/ winners-2015.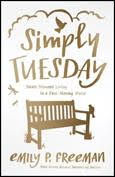 Simply Tuesday by Emily Freeman
(Revell; ISBN 9780800722456; ebook ISBN 9781441223326; $14.99)
We move through the week breathless and bustling, just trying to keep up. But real life happens in the small moments, the kind we find on Tuesday, the most ordinary day of the week. Jesus lived small moments well, slow moments fully, and all moments free. He lives with us still, on all our ordinary days, creating and redeeming the world both in us and through us, one small moment at a time. It's time to take back Tuesday, to release our obsession with building a life, and believe in the life Christ is building in us.
Cover design by Greg Jackson, Thinkpen Design; Art Director Cheryl Van Andel.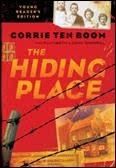 The Hiding Place, Young Reader's Edition by Corrie ten Boom, with Elizabeth and John Sherrill
(Chosen Books; ISBN 9780800796273; ebook ISBN 9781441269386; $9.99)
In a special youth edition, Corrie ten Boom's remarkable story of heroism and faith inspires a new generation of readers. During World War II in the Netherlands, one woman and her family risk their lives to hide Jews in a secret room, a "hiding place" that they built in their watchmaking shop. However, Corrie and her family are betrayed and sent to a concentration camp. This is the story of how faith, hope, and love ultimately triumphed over unthinkable evil.
Cover design by Kirk DouPonce, DogEared Design; Art Director Daniel Pitts.
Baker Publishing Group publishes high-quality writings that represent historic Christianity and serve the diverse interests and concerns of evangelical readers.
###