Trevin Wax's new book wins The Gospel Coalition Book Award
B&H gets 4 other honorable mentions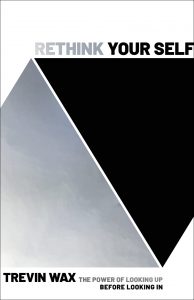 [NASHVILLE, TENN.,  December 2, 2020—] Trevin Wax's latest book "Rethink Your Self: The Power of Looking Up Before Looking In" (October 2020, B&H Publishing) was recently honored with the Evangelism & Apologetics Award (tie) in the The Gospel Coalition 2020 Book Awards, announced Nov. 30.
"It's a joy to see our colleague Trevin Wax being recognized for a valuable contribution to the Christian discourse," said Devin Maddox, V.P. of Trade Book Publishing. "We live in a complex world, and trustworthy guides like Trevin provide a great service as we all strive to sort through a vast array of issues."
In addition, four other B&H titles were named "Honorable Mentions" in their respective categories:
Wax's book tied with Rebecca Manley Pippert's book "Stay Salt: The World Has Changed: Our Message Must Not" (The Good Book Company). The judges for the Evangelism & Apologetics category were Hunter Beaumont, Jen Pollock Michel, Doug Logan and J.T. English. Their comments about "Rethink Your Self" were as follows:
"Trevin Wax steps further back and examines one dominant theme in the modern zeitgeist that is obscuring the gospel: how we construct a sense of self. In 'Rethink Your Self,' he observes that 91 percent of Americans agree with the statement, 'The best way to find yourself is by looking within yourself.'
In common discourse this shows up in all kinds of pop proverbs—'follow your heart,' 'you are enough,' 'you do you,' 'be true to yourself.' Jesus's teaching, however, can't be squeezed into this container. In fact, his call to repent is a radical challenge to it. Wax unpacks Jesus's countercultural message in a voice that is provocative, smart, and inviting, showing that our new self in Christ is truer and better."
The full list of awards can be found here.