Tim Tebow to release new book, "This Is The Day"
with WaterBrook
Former NFL quarterback, Heisman Trophy winner, sports broadcaster, baseball player, and New York Times bestselling author Tim Tebow releases new book THIS IS THE DAY on September 25, 2018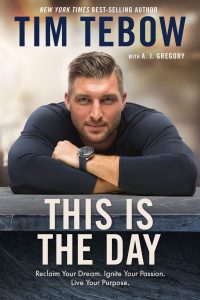 Colorado Springs, Colorado (April 3, 2018) —Tim Tebow, one of America's most beloved athletes, is set to author a follow-up to his New York Times best-seller Shaken with WaterBrook, an imprint of the Crown Publishing Group. THIS IS THE DAY: RECLAIM YOUR DREAM. IGNITE YOUR PASSION. LIVE YOUR PURPOSE, written with A.J. Gregory, is scheduled to publish September 25, 2018.
Written in Tebow's upbeat, motivational style, THIS IS THE DAY inspires readers to stop postponing their dreams and start making them happen now because this is the day. The star athlete and media icon challenges readers to get off autopilot and not wait until tomorrow to do what God is calling them to do today. Whether someone needs to get healthy, change careers, or reach out to somebody in need, readers will find themselves ready to take action, starting now, in pursuing God's purpose.
Tebow is living "This is the Day" in his pursuit of a professional baseball career, having signed with the New York Mets in 2016. The book combines personal stories from his professional baseball quest, as well as the heartache of learning that his father has Parkinson's disease, and even offers a peek into a family vacation and insight into why the Tebows are so competitive.
Tebow's hope for this new book is to awaken readers to think differently, live better, and dream bigger. "Imagine the morning alarm going off, and instead of groaning or slapping the snooze button, our minds, our hearts, and our souls were awakened to possibilities. Something better. Something more," says Tebow. "Imagine waking up each day fueled by a whisper, 'This is the day.' Because life isn't about one day. It's about this day."
Through Tebow's personal examples and life coaching in THIS IS THE DAY, readers will be challenged to kick start a personal journey toward seizing their own opportunities and start really living.
ABOUT THE AUTHOR: Tim Tebow is a two-time national college football champion, Heisman Trophy winner, first-round NFL draft pick, ESPN analyst, and professional baseball outfielder with the New York Mets. He is the author of the New York Times bestseller Shaken, which was named "2017 Christian Book of the Year" by the Evangelical Christian Publishers Association. Tebow's true passion remains the work of the Tim Tebow Foundation which he began in 2010. The foundation's mission is to bring Faith, Hope, and Love to those needing a brighter day in their darkest hour of need. The foundation fulfills this mission everyday by serving thousands of deserving children around the world.
For more information, visit www.waterbrookmultnomah.com or www.timtebow.com/ThisIsTheDay
WaterBrook and Multnomah are imprints of the Crown Publishing Group, a division of Penguin Random House, the world's largest trade book publisher, which is dedicated to its mission of nourishing a universal passion for reading by connecting authors and their writing with readers everywhere. The company, which employs 10,000 people globally, was formed on July 1, 2013, by Bertelsmann and Pearson, who own 75 percent and 25 percent, respectively. With more than 250 independent imprints and brands on five continents, Penguin Random House comprises adult and children's fiction and nonfiction print and digital English- and Spanish-language trade book publishing businesses in more than 20 countries worldwide. With 15,000 new titles, and 700 million print, audio and eBooks sold annually, Penguin Random House's publishing lists include more than 60 Nobel Prize laureates and hundreds of the world's most widely read authors.
Contact: Lisa Beech, Assistant Director of Publicity, lbeech@penguinrandomhouse.com  (719) 268-1917