Tim Tebow pens foreword to "The Seven Longest
Yards" by Chris & Emily Norton
"… You are about to begin a master class in the power of perseverance."


– Tim Tebow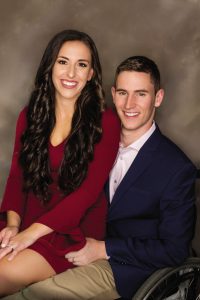 Grand Rapids, Mich., May 29, 2019 — Chris & Emily Norton announced on their Instagram and Facebook accounts that longtime supporter Tim Tebow will write the foreword to their upcoming memoir, The Seven Longest Yards: Our Love Story of Pushing the Limits While Leaning on Each Other, that is scheduled to release from Zondervan on July 9, 2019. Tebow originally connected with Chris after a life-altering football injury gave him a three percent chance of moving anything below the neck again.
In the foreword, Tebow calls Chris "one of the most inspiring guys I know," and remembers being inspired by their first short phone call while Chris was still in the hospital. "I was blown away by his determination to stay positive, to do the work, and to trust that God had a bigger story in mind," Tebow said.
"We are beyond grateful for his support," Chris wrote on his Instagram. "Tim has always been someone I have looked up to. He does so much to help others through his @timtebowfoundation, books, film #runtherace, and how he glorifies God by the way he lives his life."
Tebow writes in the foreword, "They know the power of putting one foot in front of the other, both literally and figuratively. And this book is meant to inspire you to do the same."
About The Seven Longest Yards
Injured in a college football game his freshman year, Chris Norton was given a three percent chance of moving anything below the neck again. He trained relentlessly, singularly focused on walking across the graduation stage which led him to meeting his then-fiancé Emily.  His triumphant 10 steps were seen around the world by more than 300 million people – but little did they know, that was the beginning – not the end – of Chris and Emily's incredible journey.
In The Seven Longest Yards, Chris and Emily share their love story, including the challenges and struggles that cameras haven't captured. For the first time, Emily opens up about her debilitating depression that began only a few weeks after Chris' graduation walk. For two years, she sank deep into a battle against growing anxiety. But, just as Emily sacrificed to help Chris walk across stage at graduation, Chris was at Emily's side – helping to lift her out of the depression that threatened their relationship and her very life.
Written with writer Mark Tabb, The Seven Longest Yards will be available July 9, 2019.
The upcoming documentary 7 Yards shares Chris & Emily's inspiring story.
Chris Norton is an in-demand motivational speaker with a message of hope, resilience and faith. Chris was named to ITA Group's list of "The Hottest Event Keynote Speakers for 2018," that includes Michael Strahan, Mark Cuban, Daymond John, Barbara Corcoran and Magic Johnson. Currently residing in Florida, Chris wouldn't take back the play that left him paralyzed due to the positive influence his story has had on millions of people worldwide. The Chris Norton Foundation has raised close to one million dollars to help others with spinal cord injuries and other neurological disorders. The Foundation provides various levels of accommodations, equipment and opportunities, such as a free wheelchair camp for families this summer.
Emily Norton's lifelong passion is to make a difference. Growing up in the small town of Muscatine, Iowa, Emily encountered many kids who came from unfortunate circumstances causing her to be heartbroken. Not one to sit by idly, Emily sought out ways to love and care for everyone who was hurting whether it was being a mentor, starting an after-school program for middle school girls called Girl Talk, visiting group homes or creating a talk show to share inspiring stories. Emily received her degree in family services from the University of Northern Iowa to pursue her dream of helping kids in foster care. Emily believes life is for helping others and making an impact. She is a proud mom to her 5 adopted girls and 17 other children they have fostered.
Award winning collaborator Mark Tabb has authored/ co-authored over thirty-five books including the number one New York Times bestseller, Mistaken Identity.
Zondervan is a world leading Bible publisher and provider of Christian communications.  Zondervan, part of HarperCollins Christian Publishing, Inc., delivers transformational Christian experiences through its bestselling Bibles, books, curriculum, academic resources and digital products. The Company's products are sold worldwide and translated into nearly 200 languages. Zondervan offices are located in Grand Rapids, Mich.  For additional information, please visit www.zondervan.com.
Media Contacts:
Robin Barnett, Director of Public Relations, 616-698-3251, robin.barnett@harpercollins.com
Lauren Koeller, Norton Motivation, 312-285-6528, chrisnortonmotivation@gmail.com