Tim Tebow kicks off the school year with book report contest
Grand Prize Winner Receives Skype Call with Tebow, Limited Edition Signed Bat,
and Autographed Copy of Shaken: Young Readers Edition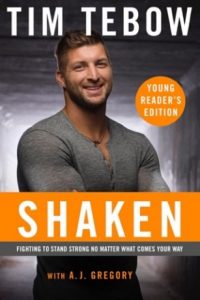 Colorado Springs, Colorado – (October 5, 2017) In conjunction with the release of his new book, Shaken: The Young Reader's Edition – Fighting to Stand Strong No Matter What Comes Your Way (WaterBrook, September 12, 2017), Heisman Trophy winner, former NFL quarterback and now professional baseball player Tim Tebow is launching a book report contest that is running from September 26, 2017, through January 8, 2018. Aimed at youth ages 10 to 15 years old, this contest encourages reading and writing and reminds them of their identity in Jesus.
Participants are invited to write a report, limited to one page with a maximum of 750 words, on how the Shaken: Young Reader's Edition inspired or challenged them in their lives. The grand prizewinner will receive a limited edition, signed Tim Tebow "TT-15" baseball bat, a signed copy of Shaken: Young Reader's Edition, and a Skype call with Tebow. The two runners-up will receive a signed, game-played baseball from Tebow and a signed copy of Shaken: Young Reader's Edition. For official rules and details, visit www.WMBooks.com/ShakenRules.
Young readers of Shaken will be captivated and motivated by Tebow's personal stories of highs and lows. With the enthusiastic voice and contagious positivity that he's known for, Tebow inspires his young readers to believe that God is ready to do great things through them—in their families, their schools, and around the world.
"There is nothing more empowering, more life-giving and more exciting than having a strong identity," says Tebow. "Jesus knew this, and He wants you to know it as well. When we are willing to let God define who we are, He will take what we have to offer and multiply it in ways and for a purpose that we cannot imagine. My prayer is that, no matter what you're facing today, this book will help you discover an unshakable identity and a God-designed purpose for your life!"
No purchase is necessary. All entries must be postmarked on or by January 8, 2018, and received on or byJanuary 15, 2018. Open to U.S. residents only. A winner will be selected on or about February 15, 2018. Void where prohibited or restricted by law.
Parents and teachers can access the book report application by visiting www.WMbooks.com/ShakenBookReport.
For more information, visit www.waterbrookmultnomah.com or www.timtebow.com/shaken.
ABOUT THE AUTHOR:
Tim Tebow is a two-time national college football champion, Heisman Trophy winner, and first-round NFL draft pick. After playing in the NFL for the Denver Broncos and the New York Jets, Tebow joined SEC Nation on ESPN. He also contributes to a variety of other ESPN platforms. Tebow is pursuing a new professional career in baseball and recently signed a contract with the New York Mets. In October of 2016, he released Shaken: Discovering Your True Identity in the Midst of Life's Storms, an immediate New York Times best-seller appearing on the list for 11 weeks and was named ECPA's Christian Book of the Year for 2017. Through everything, Tebow's true passion is the work of the Tim Tebow Foundation, which he began in 2010. The foundation's mission is to bring faith, hope and love to those needing a brighter day in their darkest hour of need. The foundation is fulfilling that mission every day by serving thousands of children around the world.
Facebook: https://www.facebook.com/TimTebow    Twitter/Instagram: @TimTebow
ABOUT THE PUBLISHER:
WaterBrook and Multnomah are imprints of The Crown Publishing Group, a division of Penguin Random House, LLC. Penguin Random House, the world's largest trade book publisher, is dedicated to its mission of nourishing a universal passion for reading by connecting authors and their writing with readers everywhere. The company, which employs more than 10,000 people globally, was formed on July 1, 2013, by Bertelsmann and Pearson, who own 53 percent and 47 percent, respectively. With nearly 250 independent imprints and brands on five continents, Penguin Random House comprises adult and children's fiction and nonfiction print and digital trade book publishing businesses in more than 20 countries worldwide, including the U.S., U.K., Canada, Australia, New Zealand, China, India, South Africa, Spain, Mexico, Argentina, Colombia, Chile, Peru, Portugal, and Uruguay. With over 15,000 new titles, and close to 800 million print, audio and eBooks sold annually, Penguin Random House's publishing lists include more than 60 Nobel Prize laureates and hundreds of the world's most widely read authors.