Thomas Nelson wins Audiobook Award
in 2017 Audie Awards
Jim Bradford and Andy Hardin's "The Awakening of H.K. Derryberry" secures highest audiobook award in the Inspirational/Faith-Based Non-Fiction category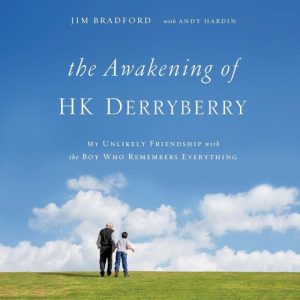 (Nashville, TN) June 7, 2017 – On June 1, 2017, The Audio Publishers Association (APA) awarded the Thomas Nelson audiobook "The Awakening of H.K. Derryberry" (written by Jim Bradford and Andy Hardin, and narrated by Milton Bagby) an Audie Award in the Inspirational/Faith-Based Non-fiction category.  
The award was announced and presented at the 22nd annual Audie Awards, which took place on June 1 at the French Institute Alliance Française in New York. The awards were presented to various publishers, narrators, and authors, and is often referred to within the audiobook industry as the "Oscars of spoken word entertainment."  
"The Awakening of H.K. Derryberry" was published by the Thomas Nelson imprint, W Publishing, and chronicles the inspiring friendship between one man who stepped out of his upper middle-class world to reach out to the life of a young, disabled boy. 
"The W Publishing team is thrilled to receive an Audie Award for 'The Awakening of H.K. Derryberry,'" says Daisy Hutton, vice president and publisher of W Publishing. "We look forward to this title's continued success across all formats."   
Additional credits for the Audie award of "The Awakening of H.K. Derryberry" are given to executive producer, producer, engineer, sound editing, and package & cover design. Other Thomas Nelson titles were nominated, including:  
"The Great Good Thing" by Andrew Klaven, narrated by Andrew Klaven (published by Nelson Books) – Inspirational/Faith-based Non-fiction

"The Girl from the Train" by Irma Joubert, narrated by Sarah Zimmerman (published by Thomas Nelson Fiction) – Inspirational/Faith-based Fiction
"We have noticed a rise in audiobook popularity industry wide which is a great avenue for growth and discoverability for veteran and new authors alike," said Mark Schoenwald, president and CEO of HarperCollins Christian Publishing.  "I am grateful for the recognition that Thomas Nelson has received by the APA.  This Audie Award and the two nominations speak to the quality of our product as well as the impact these stories are having on audio-readers' lives."
About Thomas Nelson: Thomas Nelson is a world leading publisher and provider of Christian content and has been providing readers with quality inspirational product for more than 200 years. As part of HarperCollins Christian Publishing, Inc., the publishing group provides multiple formats of award-winning Bibles, books, gift books, cookbooks, curriculum and digital content, with distribution of its products in more than 100 countries. Thomas Nelson is headquartered in Nashville, TN. For additional information visit www.thomasnelson.com.