Thomas Nelson to release
new verse mapping Bible study
Award-winning author Kristy Cambron creates new series to unpack scripture in a simple, accessible format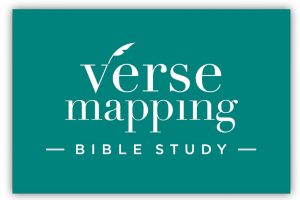 (Nashville, Tenn.) May 8, 2018
—Realizing the interconnectedness of scripture throughout the Bible requires a level of research and resource that many Bible readers feel they are lacking.  The assumption is this level of in-depth biblical knowledge falls to the academy, pastor, or theologian.  Award-winning author, Kristy Cambron, has set out to break the mold in a new verse mapping curriculum study series, released through Thomas Nelson.
Verse mapping helps unpack the context of scripture more simplistically to help readers have a deeper understanding of God's Word.  The first two studies in the series, 
"Luke: Gathering the Goodness of God's Word"
 and "
Acts: Feasting on the Abundance of God's Word"
  will empower individuals to go beyond simply reading the Bible to researching and uncovering how to apply the Word in everyday life.  Cambron focuses on a five-step process to improve your study time with God through verse mapping:
 Verse: Select a verse to map
 Design: Write your verse in several translations and identify key words or  phrases
 Develop: Look up key words and discover any underlying meanings
 Actions: Research and document the people, places and context referenced
 Outcome: Write a one- to two-sentence summary of what you learned and anchor the verse to your life
"We are so excited to partner with Kristy Cambron on verse mapping," said John Raymond, vice president and publisher of Trade Curriculum for HarperCollins Christian Publishing.   "This creative new approach to Bible study will bring scripture alive for so many people and it will help HarperCollins Christian Publishing accomplish our mission of meeting the needs of people by publishing resources that promote biblical principles."
In both studies, Cambron provides step-by-step instructions on what readers need and how to get started in verse mapping. Designed for independent study, all sizes of groups, and all age-ranges, verse mapping is for people who want more depth when studying God's Word. Consisting of six video sessions each, both "Luke: Gathering the Goodness of God's Word" and "Acts: Feasting on the Abundance of God's Word"
guide the reader through verse mapping a small section of scripture. The accompanying Bible study guide includes diagrams for verse mapping, discussion questions and group activity prompts.
"If you're not a seminary-trained theologian by education, don't worry—Verse mapping is for anyone with a heart to know the Word of God more," writes Cambron. "What matters is not how much knowledge you have before you begin, but where the journey takes you. The goal is to experience a deeper, more personal walk with Jesus, with the Bible as the field manual on your story road with Him."
For more information on verse mapping visit 
versemapping.com
.
About Thomas Nelson: 
Thomas Nelson is a world leading publisher and provider of Christian content and has been providing readers with quality inspirational product for more than 200 years. As part of HarperCollins Christian Publishing, Inc., the publishing group provides multiple formats of award-winning Bibles, books, gift books, cookbooks, curriculum and digital content, with distribution of its products in more than 100 countries. Thomas Nelson is headquartered in Nashville, TN. For additional information visit 
www.thomasnelson.com
.