Thomas Nelson releases the NKJV
Ancient-Modern Bible
Discover the rich wisdom of voices 
from the past and present with the 
NKJV Ancient-Modern Bible 

Beautiful interior design includes exclusive 
Thomas Nelson NKJV Comfort Print®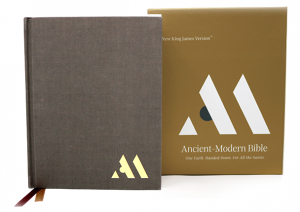 Nashville, Tenn., Sept. 28, 2018 – Many things have changed in the last two-thousand years—but the good news of Jesus Christ isn't one of them.
The NKJV Ancient-Modern Bible is an opportunity for readers to experience the Word of God with fresh eyes, as members of the global and historical community of faith.
A Bible that has been two thousand years in the making, the NKJV Ancient-Modern Bible features all-new book introductions, articles, and commentary from voices both ancient and modern to help readers experience the Word of God as never before. Read the Bible alongside Augustine, Luther, Graham, and others—and discover the rich wisdom of ages past and present, which is the rightful inheritance of every follower of Christ.
"Christians are members of a unique community with a unique text," says Daniel Marrs, publisher, Thomas Nelson Bible Group. "The church and the Bible are at once ancient and modern, sacred and everyday. The NKJV Ancient-Modern Bible uniquely embodies those realities, through both design and content. Beautiful modern typography and design standards blend seamlessly with sacred art and the insights of Christian thinkers, both past and present, to create a Bible that presents Scripture as holy and unique while speaking accessibly to today's Christian."
Features of the NKJV Ancient-Modern Bible include:

Full-color design that uniquely blends cutting edge modern typography and layout with traditional, sacred elements

Bible commentary from church thinkers of the past and present, from Huss to Keller, from Chrysostom to Spurgeon, from Aquinas to Wright

Biographies of church leaders and thinkers

Doctrine and history articles on significant councils, creeds, and controversies

Sacred art from throughout church history

Easy-to-read 8.5-point print size in Thomas Nelson NKJV Comfort Print®
The NKJV Ancient-Modern Bible is available in the following formats on October 2, 2018:
ISBN 9780785215974, Cloth over Board, Gray, 1,696 pages, $59.99

ISBN 9780785215950, Hardcover, 1,696 pages, $49.99

ISBN 9780785216018, Leathersoft™, Brown, 1,696 pages, $69.99

ISBN 9780785216049, Ebook, 1,696 pages, $39.99

To learn more and to view a sampler, visit www.thomasnelsonbibles.com/ancient-modern-bible.
Limited review copies are available upon request.

Contact Trinity McFadden at trinity.mcfadden@harpercollins.com.
About Comfort Print®:
 Read on! Settle in and spend more time in the Bible without eyestrain. Comfort Print® is an exclusive new family of fonts expertly designed to allow your eyes to relax as they flow smoothly along the lines of text. Learn more at 
www.ComfortPrintBibles.com
.
About the NKJV™:
 Commissioned in 1975 by Thomas Nelson Publishers, 130 respected Bible scholars, church leaders, and lay Christians worked for seven years to create a completely new, modern translation of Scripture, yet one that would retain the purity and stylistic beauty of the original King James. With unyielding faithfulness to the original Greek, Hebrew, and Aramaic texts, the NKJV translation applies the most recent research in archaeology, linguistics, and textual studies.
About Thomas Nelson: Thomas Nelson is a world leading publisher and provider of Christian content and has been providing readers with quality inspirational product for more than 200 years. As part of HarperCollins Christian Publishing, Inc., the publishing group provides multiple formats of award-winning Bibles, books, gift books, cookbooks, curriculum and digital content, with distribution of its products in more than 100 countries. Thomas Nelson, is headquartered in Nashville, TN. For additional information visit www.thomasnelson.com.
Contact: Trinity McFadden, Senior Manager of Publicity
trinity.mcfadden@harpercollins.com  616-698-3514