Thomas Nelson reaches major audiobook sales milestone
Audiobook edition of Girl, Wash Your Face sells over one million copies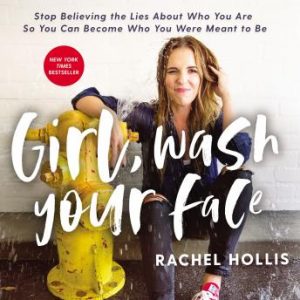 August 16, 2019 (NASHVILLE, TN) – As the audiobook format continues to see astronomical growth industry-wide, Thomas Nelson celebrated an audiobook milestone of their own: a million audiobook copies sold of Rachel Hollis's New York Times bestselling title, Girl, Wash Your Face.
The audiobook edition of Girl, Wash Your Face was released on February 6, 2018 and saw continual growth through the first year of its release. Rachel Hollis's energetic narration has captivated audiobook listeners by communicating the book's both vulnerable honesty and unflinching humor.
"The enthusiasm for Girl, Wash Your Face continually inspires us here at HCCP," says Tim Paulson, vice president and publisher of Nelson Books. "The sales of this book only prove that this book is meeting a need of so many people who are looking for the message that Rachel is able to offer them."
With painful honesty and fearless humor, Rachel unpacks and examines the falsehoods that once left her feeling overwhelmed and unworthy and reveals the specific practical strategies that helped her move past them. In the process, she encourages, entertains, and even kicks a little butt, all to convince you to do whatever it takes to get real and become the joyous, confident woman you were meant to be.
Brad Hill, senior manager of audio sales, said, "Obviously, Girl, Wash Your Face has spoken to people in a unique way, and the audiobook only offers another level of connection, by letting the author tell you her story in her own voice. We are excited to continue finding new ways for the audiobook to reach an even wider audience."
Across all formats, Girl, Wash Your Face has sold over three million copies worldwide.
Thomas Nelson, part of HarperCollins Christian Publishing, Inc., is a world-leading provider of Christian content and has been providing readers with quality inspirational product for more than 200 years. The publishing group provides multiple formats of award-winning Bibles, books, gift books, cookbooks, curriculum and digital content, with distribution of its products in more than 100 countries. Thomas Nelson is headquartered in Nashville, TN. For additional information, please visit www.thomasnelson.com.
Contact: Jolene Barto, Marketing Manager, Audio Sales, 615.902.2389, Jolene.Barto@HarperCollins.com