Thomas Nelson launches the Jesus Calling Weekly
Prayer Call
Free call shares the power of group prayer with Jesus Calling readers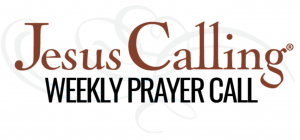 NASHVILLE, Tenn. (Sept. 11, 2019) – Jesus Calling by Sarah Young has sold more than 30 million units and touched an immeasurable number of lives. Jesus Calling readers share the devotional widely with friends, coworkers, family members, and more. Considering the sense of community that has grown from the devotional, Thomas Nelson announced today that it launched a new opportunity for people to connect through the Jesus Calling Weekly Prayer Call.
Every Tuesday morning, anyone in the United States can dial into a call to join members of the Jesus Calling team who will read from that day's Jesus Calling devotion and related Scripture verses, share prayer requests, and pray with others. The call starts at 8 a.m. EST and typically lasts 10-15 minutes.  Prior to each week's call, anyone can submit a personal prayer request through the Jesus Calling website.
"We've heard time and time again that readers of Jesus Calling love beginning their day with the devotional because it's a heartfelt and impactful way to start the day on the right foot," said Michael Aulisio, vice president of marketing for gift books, children's books and new media at Thomas Nelson. "The weekly prayer call is a way for people to experience Jesus Calling in a community-focused way, to assure others they are not alone, and to share encouragement across the country."
The Jesus Calling Weekly Prayer Call was inspired by a group of women at the Brookland Baptist Church in Columbia, S.C., who had organized a weekly prayer call around the church's annual Woman's Day. Each week before the event, the committee gathered for a weekly prayer call, where they would pray for the event, hear each other's prayer concerns, and read a devotional passage from Jesus Calling. That story was shared on the Jesus Calling: Stories of Faith Podcast, and it was so compelling that the concept was expanded to reach readers on a national level.
Those who cannot dial in have the chance to stream the call by visiting www.jesuscalling.com/prayer-call.
About Thomas Nelson: Thomas Nelson is a world leading publisher and provider of Christian content and has been providing readers with quality inspirational product for more than 200 years. As part of HarperCollins Christian Publishing, Inc., the publishing group provides multiple formats of award-winning Bibles, books, gift books, cookbooks, curriculum and digital content, with distribution of its products in more than 100 countries. Thomas Nelson, is headquartered in Nashville, TN. For additional information visit www.thomasnelson.com.
Contact:  Stefanie Schroeder, Publicity Manager, 615.902.1722  Stefanie.schroeder@harpercollins.com