Thomas Nelson introduces "The Wiersbe
Study Bible"
Discover the Life-Transforming Power of Scripture with One of Today's Most Trusted Bible Scholars.  

The Wiersbe Study Bible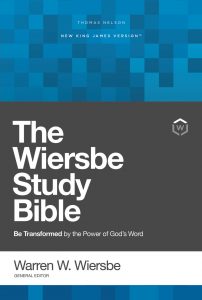 Nashville, Ten. (March 2019) – In The Wiersbe Study Bible, trusted Bible scholar Dr. Warren W. Wiersbe shares a lifetime of insightful notes and applications for living out God's truths and promises in this one-of-a-kind edition.
Dr. Wiersbe has guided millions into soul-enriching encounters with God's Word through his bestselling "Be" commentary series and hosting the Moody radio ministry, "Back to the Bible." Thomas Nelson Bibles is delighted to share Dr. Wiersbe's accessible explanations and thoughtful studies with readers around the world in The Wiersbe Study Bible.
This study Bible features thousands of Wiersbe's verse-by-verse notes and hundreds of Catalyst essays offering in-depth reflections on scriptural themes to support and encourage the spiritual journey of every reader. Wiersbe introduces each book of the Bible with an overview of its historical and cultural background, themes, and key points. Accompanying these introductions are sections titled "Be Transformed," where readers will discover his practical and transformational life lessons drawn from Scripture.
In addition to thousands of cross references highlighting the connections woven throughout Scripture, a concordance, and full-color maps, The Wiersbe Study Bible is available in Thomas Nelson's exclusive, easy-to-read Comfort Print typeface.
This Bible is available in four beautiful cover choices with or without thumb tab indexing.
To view samples of the introductions, Catalyst applications, and notes, visit: www.wiersbebible.com
New Product Details
The Wiersbe Study Bible, NKJV
ISBN 9780785220978, Hardcover Comfort Print, $49.99
ISBN 9780785221036, Black and Burgundy Leathersoft™ Comfort Print, $74.99
Also available in an indexed option

ISBN 9780785221050, Genuine Brown Leather Comfort Print, $159.99

Also available in an indexed option
For reprint permission, review copies, or to request an interview with Dr. Wiersbe, contact Bethany Carlson at bethany.carlson@harpercollins.com or 615.902.2117. To learn more about The Wiersbe Study Bible visit www.wiersbebible.com.
About the Author:  
Warren W. Wiersbe, former pastor of the Moody Church and general director of Back to the Bible, has traveled widely as a Bible teacher and conference speaker. Because of his encouragement to those in ministry, Dr. Wiersbe is often referred to as "the pastor's pastor." He has ministered in churches and conferences throughout the United States as well as in Canada, Central and South America, and Europe. Dr. Wiersbe has written over 150 books, including the popular BE series of commentaries on every book of the Bible, which has sold more than four million copies. At the 2002 Christian Booksellers Convention, he was awarded the Gold Medallion Lifetime Achievement Award by the Evangelical Christian Publishers Association. Dr. Wiersbe and his wife, Betty, live in Lincoln, Nebraska.
About Comfort Print®: Choosing the right typeface is one significant element in creating beautiful Bibles that carry the message of the text. Thomas Nelson Bibles teamed up with 2K/Denmark, the world's foremost typeface foundry, to create exclusive Comfort Print Bible fonts. The NKJV Comfort Print typeface was designed to reflect the character and history of the New King James translation, and also to be exceptionally easy to read at any size. Learn more at www.ComfortPrintBibles.com.
About Thomas Nelson: Thomas Nelson is a world leading publisher and provider of Christian content and has been providing readers with quality inspirational product for more than 200 years. As part of HarperCollins Christian Publishing, Inc., the publishing group provides multiple formats of award-winning Bibles, books, gift books, cookbooks, curriculum and digital content, with distribution of its products in more than 100 countries. Thomas Nelson, is headquartered in Nashville, TN. For additional information visit www.thomasnelson.com.
Contact: Bethany Carlson, Bible Group Marketing Manager
web: bethany.carlson@harpercollins.com  tel: 615.902.2117