Thomas Nelson Bibles and Michael & Hayley DiMarco announce launch of The TEXT Bible
New Bible designed for students, young adults, and new believers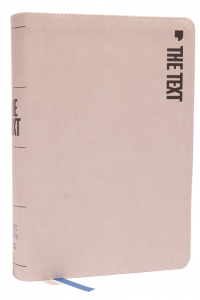 NASHVILLE, Tenn., Aug. 2022 —Thomas Nelson Bibles, a division of HarperCollins Christian Publishing, and bestselling authors Michael & Hayley DiMarco announce the release of The TEXT, a new Bible for students, young adults, and new believers.
The TEXT Bible introduces a new Bible engagement method called TEXT—Talk to God; Encounter God and humanity in Scripture; eXamine your heart; Talk to others—to help readers of every experience level interact with God's message. Along with this memorable and easy-to-use Bible engagement technique, The Text includes features designed to help younger Christians, teachers, and leaders overcome the challenges many believers face in reading and studying Scripture on their own.
"In all our years of writing books for teens, young adults, and new believers, we dreamed of a Bible like this," said the DiMarcos. "Our hope is that it becomes the go-to Bible for everyone that has struggled to read, study, and engage directly with it."
The TEXT Bible is written using the New English Translation (NET), a ministry-first translation that combines clarity of language with unprecedented transparency and more than 60,000 translator notes, which are freely available at netbible.org.
"The TEXT helps students engage the Bible in a way that makes sense to everyday living," said Philip Nation, vice president and publisher of Thomas Nelson Bibles. "It offers up a simple process that anyone can use to understand every Scripture passage. I'm excited to see how The TEXT is going to impact an entire generation of Bible readers."
The TEXT is the first collaboration between Thomas Nelson Bibles and the DiMarcos, who serve as its general editors. Features include:
TEXT the Text: use the four-step TEXT study method— Talk to God; Encounter God and humanity; eXamine your heart; Talk to others—to engage with Scripture
Big Q of the Text: big life questions with short answers
"Who is God?": nearly 100 short devotions on the person and character of God
Praying the Text: Learn how to start praying God's Word right back to him!
Get to Know the Text: brief explanations of people and events found in Scripture
Follow the Thread: navigate the Bible across topics
Anatomy of the Text: concise descriptions of literary devices and categories of Scripture found within the Bible, such as parables and apocalyptic books
Terms of the Text: brief definitions of important words to help us better understand and discuss Scripture
Single-column text with wide margins for note taking or journaling
Clear and readable 9-point NET Comfort Print® typeface The TEXT is available now everywhere Bibles are sold.
The TEXT Bible is available now everywhere Bibles are sold. Learn more about it at textbible.com.
If you would like to receive a review copy, reprint permission or schedule an interview with the editors, contact Amy Bigler, HarperCollins Christian Publishing, at amy.bigler@harpercollins.com
About Michael and Hayley DiMarco: Michael and Hayley DiMarco are the bestselling and award-winning authors of more than 40 books including Own It, God Guy, God Girl, and A Woman Overwhelmed. Michael and Hayley have also served as general editors on three Bible projects. Together, they work side-by-side at Hungry Planet, a company they founded that creates winsome and spiritually based content for teens and young adults. They live in Eugene, Oregon where Michael serves as a pastor.
About Thomas Nelson:  Thomas Nelson is a world leading publisher and provider of Christian content and has been providing readers with quality inspirational products for more than 200 years. As part of HarperCollins Christian Publishing, Inc., the publishing group provides multiple formats of award-winning Bibles, books, gift books, cookbooks, curriculum and digital content, with distribution of its products in more than 100 countries. Thomas Nelson, is headquartered in Nashville, TN. For additional information visit www.thomasnelson.com
Contact:  Amy Bigler, Senior Public Relations Manager, amy.bigler@harpercollins.com