Thomas Nelson announces "The Seasons Edition"
Collection of Fine Edition Classics Releasing in October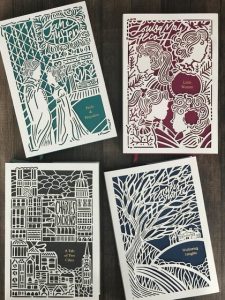 (July 2019) – Do you remember where you were when you found out Elizabeth loved Mr. Darcy in Pride and Prejudice? Or when Catherine chose Linton over Heathcliff in Wuthering Heights? Did you dream of becoming a writer because of Jo March's stories with her sisters in Little Women? For fans of the classics, these stories, while hundreds of years old, are still alive and well.
Thomas Nelson is releasing the 'Seasons Edition' – a selection of fine edition classics that have been cultivated because of the season in which the book takes place. A limited-edition collection with only one print run, all books will be first editions and numbered out of 10,000.
The first series will be the 'Seasons Edition – Winter,' and it will launch in October 2019 featuring Little Women by Louisa May Alcott, Pride and Prejudice by Jane Austen, A Tale of Two Cities by Charles Dickens, and Wuthering Heights by Emily Bronte. Expertly created by in-house, award-winning designer Kate Armstrong, the front covers invoke the mood of the season while a quote from the book about winter will be on the back cover.
About the Book:  The book jacket will be stark white with an innovative laser-cut design. The hardcover book exterior will have a printed texture in a solid color with gold foil stamping on the front cover, spine, and back cover.
Highly-designed end sheets will bookmark the front and back of each book as well as the backside of each of the designed quotes throughout the interior. 
The book interior will be a two-color printing on white paper with sewn binding. The book will also contain eight decorative pages with designed quotes about the winter season, and the exterior of the pages will be stained in a complimentary color.
'Seasons Edition – Summer' will release in June 2020 and feature The Adventures of Huckleberry Finn by Mark Twain, Jane Eyre by Charlotte Bronte, Persuasion by Jane Austen, and the Wonderland collection by Lewis Carroll.
'Seasons Edition – Winter' releases October 28, 2019 $29.99 
(Thomas Nelson).
Media Contact:


Stephanie Newton, Publicity Director, Stephanie.Newton@harpercollins.com, (o) 615-902-2320