Thomas Nelson announces release of third edition
of "The Maxwell Leadership Bible"
Learn about leadership from the ultimate source—God's Word—with leadership expert John C. Maxwell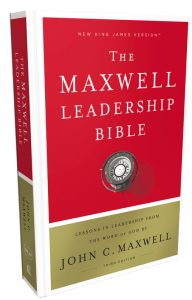 Nashville, Tenn., Oct. 9, 2018 – Thomas Nelson is pleased to announce the release of the third edition of The Maxwell Leadership Bible with leadership expert John C. Maxwell.
In The Maxwell Leadership Bible, Maxwell shows you the principles of leadership taught in God's Word and how to use them.
Whether you are an employee, a boss, a parent, or a neighbor, you are a person of influence in your part of the world. Throughout the pages of Scripture, John Maxwell has assembled the time-tested and irrefutable biblical principles of leadership to equip and encourage leaders with his signature approach, including the 21 Laws of Leadership, the 21 Qualities of a Leader, biographical profiles, and hundreds of notes.
The Maxwell Leadership Bible is now available in full color and in Thomas Nelson's exclusive and easy-to-read NKJV Comfort Print® typeface. Its features include:
A new Third Edition introductory letter from John Maxwell

10 all-new full-length articles on biblical leadership and influence

Over 120 "Profiles in Leadership" lessons drawn from the people of the Bible

Hundreds of compelling short articles and notes on mentoring and influence

A complete reference index to the 21 Laws of Leadership and the 21 Qualities of a Leader

Exclusive, easy-to-read Thomas Nelson NKJV Comfort Print® typeface

10-point print size

Product formats available October 9, 2018:

ISBN 9780785218548, Hardcover, Comfort Print®, 1,664 pages, $49.99

ISBN 9780785218623, Leathersoft™, Black, Comfort Print®, 1,664 pages, $74.99

ISBN 9780785218647, Premium Bonded Leather, Burgundy, Comfort Print®, 1,664 pages, $74.99

ISBN 9780785218654, Premium Cowhide Leather, Brown, Comfort Print®, 1,664 pages, $89.9

ISBN 9780785218661, Ebook, 1,664 pages, $39.99

For reprint permission, review copies, or to request an interview with John Maxwell, contact Trinity McFadden at trinity.mcfadden@harpercollins.com or 616-698-3514. To learn more about The Maxwell Leadership Bible, visit www.MaxwellBible.com.
About John C. Maxwell:  
John C. Maxwell is a #1 New York Times bestselling author, coach, and speaker who has sold more than 30 million books in 50 languages. He has been identified as the #1 leader in business by the American Management Association® and the most influential leadership expert in the world byBusiness Insider and Inc. magazine.
He is the founder of The John Maxwell Company, The John Maxwell Team, EQUIP, and the John Maxwell Leadership Foundation, organizations that have trained millions of leaders from every country of the world.
The recipient of the Mother Teresa Prize for Global Peace and Leadership from the Luminary Leadership Network, Dr. Maxwell speaks each year to Fortune 500 companies, presidents of nations, and many of the world's top business leaders.
He can be followed at Twitter.com/JohnCMaxwell. For more information about him visit JohnMaxwell.com.
About the NKJV™: 
Commissioned in 1975 by Thomas Nelson Publishers, 130 respected Bible scholars, church leaders, and lay Christians worked for seven years to create a completely new, modern translation of Scripture, yet one that would retain the purity and stylistic beauty of the original King James. With unyielding faithfulness to the original Greek, Hebrew, and Aramaic texts, the NKJV translation applies the most recent research in archaeology, linguistics, and textual studies.
About Comfort Print®:
Read on! Settle in and spend more time in the Bible without eyestrain. Comfort Print® is an exclusive new family of fonts expertly designed to allow your eyes to relax as they flow smoothly along the lines of text. Learn more at www.ComfortPrintBibles.com.
About Thomas Nelson: 
Thomas Nelson is a world leading publisher and provider of Christian content and has been providing readers with quality inspirational product for more than 200 years. As part of HarperCollins Christian Publishing, Inc., the publishing group provides multiple formats of award-winning Bibles, books, gift books, cookbooks, curriculum and digital content, with distribution of its products in more than 100 countries. Thomas Nelson, is headquartered in Nashville, TN. For additional information visit www.thomasnelson.com.
Contact:
Trinity McFadden, Senior Manager of Publicity, trinity.mcfadden@harpercollins.com, 616-698-3514